I haven't written about Swagbucks in quite some time.  But, this is one that you're probably gonna want to hear about.  Every once in a while, there's a promotion that they put on that is well worth the effort, and this just happens to be one such promotion.
So what it is, you ask?
If you sign up through this link before April 5th, and then earn 1500 Swagbucks, you'll be credited with 500 additional bonus Swagbucks.  If you've read any of my previous posts about Swagbucks, you'll know that the reason I like it so much is that with a measly 500 or so Swagbucks, you can get a $5 gift card to Amazon.  Depending on how active I am, I get one every quarter or so.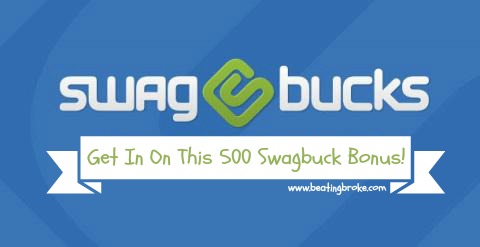 Rules.  There's always rules.
You've got to be a new user.  You've got to sign up through my referral link.  (I'll get referral bucks for anyone that does that equal 10% of your Swagbucks earnings.  They're not subtracted from yours, just bonused to me.  After you sign up, you can refer anyone you like and do the same!)  You've got to earn 1500 Swagbucks before April 19th.
Getting 1500 Swagbucks before April 19th is going to be a bit difficult, which is likely why they're running the promotion the way they are.  However, it's totally doable.  The only thing that won't count towards your 1500 are any Swagcodes, but those are few and far between anyways. And, if you do it, you'll have the original 1500, plus the bonus 500, and be able to cash them in for $20 in gift cards.  Well worth the effort.  Especially if you spend as much money on Amazon as I do.

You have until April 5th to sign up through this link.  The longer you wait, the harder it's going to be to get those 1500 by April 19th, though, so just go do it.