This post will have very little to do (directly anyways) with personal finance.  It's aimed more at those folks who, like me, write about personal finance, or are members of the personal finance media.  You're welcome to continue to read on if that isn't you, but it might be a bit boring.  

So, just a quick note to let you all know that Fincon tickets went on sale about 30 seconds ago.  Yes, seriously.  Go get your ticket now before they sell out, or the price goes up.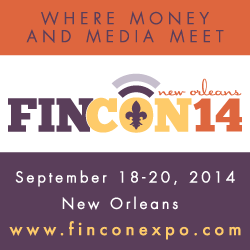 Don't know what Fincon is? You've been missing out! It's the major personal finance and money conference. I've been every year so far, and am hoping to be able to make it this year as well. If you're in the money media, it's the place to be for meeting others like you, meeting vendors like Ally, Lending Club, Chase, and others, and meeting some of the biggest names in the media/money arena. Last year, we got keynote speeches from Jean Chatzky, Pat Flynn, and Derek Halpern. This year, Farnoosh Torabi will be giving a keynote as will Chris Ducker.
There will be an abundance of information to take in, and I guarantee you'll come away with at least a handful of ideas on ways to improve what you're doing.
Are you still reading this?  Stop.  Go get your tickets first! Then, come back and let me know if you'll be attending, how many you've been to (or if you'll be a first timer), and what you look forward to the most.