Let's face it.  The current level of personal finance education is staggeringly poor.  Students in our public schools are receiving little, if any, education on how to properly handle their finances.  Most of the parents of those same students are so bad with finances that they are unable to teach their kids anything either.  One of the cool things that has happened in recent years is that many of the companies that depend on people's finances to make money are starting to see the light.  They're beginning to recognize that if the schools and parents aren't going to teach the children the proper way to use their finances, someone has to do it.  And they're taking the reins and developing programs that help to educate children and teens.
H&R Block is one of those companies.  They've created the Dollars & Sense program to help parents connect with their children on financial matters.  Through the H&R Block Dollars & Sense website, and Dollars & Sense facebook page, they're providing helpful resources to parents to help educate teens on the best ways to use money, and to safely navigate the many different financial pitfalls.
"Kids are going to make mistakes with money. It's easier to help them through these mistakes when your teen is a minor and still lives at home. Teaching teens money management skills before they graduate can help them avoid costly mistakes as an adult," said Susan Ehrlich, president of financial services for H&R Block, which provides financial education for teens through its H&R Block Dollars & Sense philanthropic program.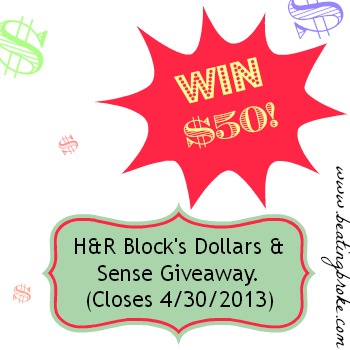 I think part of any program like this is getting people to participate.  H&R Block seems to get this too.  They've developed several programs and giveaways to help entice teens to participate. They've partnered with DoSomething.org to develop materials to lead teens in having open conversations about money.  The program is called Mind on My Money, and encourages teens to download workshop materials and lead other teens in a workshop.  Teens that lead a workshop are eligible for a chance to win a $10,000 scholarship, and teens that participate in a workshop are eligible for a chance to win a $1,000 scholarship.  The program runs through the end of April, 2013, which doesn't leave much time to participate, but it's a cool way to learn a little something about money, and get your friends involved.
Part of the Mind on My Money program is a companion scholarship chance that they're calling The Craziest Thing I Did to Save Money which asks teens and young adults 25 and under to submit a picture and story about the craziest things they've done to save money.  A winner will be chosen, at random, from the participating entries to win a $4,000 scholarship.  This one also ends on the 30th of April 2013, so hurry and get your entries in.
Participating in the education of our children is important.  Having programs like the Dollars & Sense program can be very helpful in giving us a place to start and the topics and information to give them the financial education that they need.  Chances are, parents will learn a few things along the way.
H&R Block Dollars and Sense has partnered with Beating Broke to sponsor a giveaway as well!  From now until the end of the day on April 30th, 2013, tell us what the craziest thing you've done to save money is, or share a tip on how parents can engage kids in learning about personal finance.  Share it in the comments below.  Shortly after the 30th, we'll select one of the comments via random.org to win a $50 Emerald Prepaid Debit Card from H&R Block.
UPDATE: A winner has been picked.  I've sent an email off to the winner, and as soon as the winner confirms, the Emerald card will be on it's way!