I live in New York City. A friend of mine, who makes a low-mid 80s salary, recently told me that he doesn't see how he'll be able to ever stop living check-to-check at his current salary. Mind you that he doesn't have any children or other mouths to feed other than his own. Meanwhile, I have another friend who makes low 40s and has managed to save at least $5,000 over the course of 1.5 years. This reinforces the fact that people of all income levels earn enough to save. It's not how much you make, but rather your overall mindset that matters.
I have had the opportunity to have visited marginalized communities, very poor, where there is the concept of savings. I have witnessed people who make a savings, no matter how small, for rainy days. It is not a formal savings, is variable and not very planned, but it is savings for when needed.
Upper classes: less saving and more debt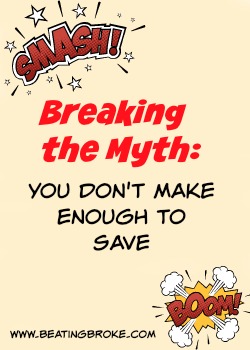 Even if I do not have the statistics to back it up, I realized that those who saved less, were those that were in the middle to upper-class sections of society. Why? Because unfortunately they are heavily indebted.
As BeatingBroke has pointed out, we live in a society where it seems that we are measured not by what we are, but by what we have. This apparently gives us social status and even a sense of belonging. Heck, even the number of Twitter, FB, or Instagram followers is apparently tied to your worth nowadays.
The more we own, the more we are wont so spend because we have suddenly been made more aware of other "shiny new objects" that we just have to have in order to "keep up with the Joneses." We now have access to lines of credit that allows us to go up to a full year without paying interest! We are humans and we want to live better, we convince ourselves saying: "I deserve this."
Then we pledge our future income on big ticket items that deplete, nullify, or make virtually impossible to start, or continue any sort of savings plan. This endless cycle prevents us from building appreciable. Look, there is nothing wrong with spending a little when we do it in a conscious way, nor should we feel bad about this. But all in balance.
Saving: All about Priorities
That is why it is so important to have clear priorities in life. Some say that the security for your family is paramount, while others are concerned about being able to live well when they're no longer able to work. But not enough of us have an emergency fund, life insurance, or have even been concerned enough to make a retirement savings plan. They say (my friend, for example) that they do not have enough to do so because they are still paying the monthly payments of the flat screen that they bought last year. I imagine that "taking advantage of the offer" was more important.
A few years ago chatting with my brother, I asked if he had begun his saving for retirement. He was an unmarried person at that time, working and earning a salary that without a doubt was sufficient for his needs. He was a person that almost every weekend partied and dined at nice restaurants, and in addition was paying a hefty car note. Unsurprisingly, his answer was no, but that he had plenty of time. He's 38. I just shook my head. What else could I say that he hast heard 100 times over.
The fact of the matter is that one never earns "enough."  If one expects to save when you reach some magical number, then guess what, it will never happen!
I have always saved because ever since I was a kid, I got used to getting by with a portion of the money I made. I always separated some money and place it in a portfolio that is not used, inside the drawer of my socks. (hey, I was 12, don't judge me 🙂 . At certain stages of my life I have had to live with a limited income, but that was never a pretext: I always found the way to save something.
The point I'm trying to make is that I am by no means rich. Especially when I was just a little kid. But my parents instilled in me the will and wisdom of saving. Whether you're a millionaire, or getting by on minimum wage, saving even just 5% of your income every week, can put you in the right mindset to be able to save even more money when you, hopefully, eventually grow your income to the point where your savings can become substantial assets.
Instead of trying to always keep up with the Joneses, start saving a little for that rainy day. There are plenty of apps and financial instruments to help you along the way. But remember, mind over matter.