My wife really enjoys eating healthy, and prefers the taste of organic, grass fed meats to the traditional pasture raised and corn finished variety that is far less expensive. My wife usually does the shopping, but last time I went with her she bought a pound of ground buffalo for $9.99, and that was on sale! I absolutely couldn't believe it! We try and keep our grocery tab under 65-75 dollars per week for the two of us, and she was spending more than 10% of it on one item!
That's a lot of money, and more of the same in this department would put us in the poor house in no time flat. Thankfully though, we very rarely buy meat from the store. It's not that we are vegetarians or vegans, but we prefer to get our meat from other sources. The main sources that we use to get meat these days is hunting and fishing. I've found that this is a great way to get high quality meat for a great price. Not only that, but you get to be outside all the time while you do it.
I started hunting right out of college with my dad and my uncle, and I went with them because it was what they always did. Hunting didnt seem that abnormal to me at the time, and neither did securing your own food. It was just something we did because we didnt have a lot of money to spend on anything, especially food.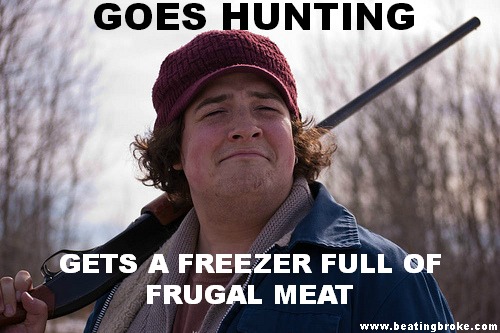 Now though, I'm hard pressed to find someone that is under the age of 30 that hunts, and I cant figure out why. Every time I go to the store I see people filling up their carts with organic, free range and grass fed meat, and they are paying a pretty penny for it! When I go deer hunting I usually yield about 35 pounds of raw meat, and I pay $20 for my hunting tag, which equates to about $1.75 per pound. This isn't just some regular old factory farmed meat either, it's high quality, grass fed, free range organic stuff that people are paying an arm and a leg for. It's good, frugal meat.
This poundage that I get is all venison as well, it's before I combine it with a little beef fat for hamburger or before mixing with pork for venison sausage. Typically, when you make sausages or ground venison, you want to add some fat because venison is so lean that it dries out pretty quickly, further increasing your actual yield.
The same can be said for fishing. I know not everyone likes fish that much (and the ones that are more popular like salmon are nowhere to be found where I come from) but you can get a great source of protein with them as well. Your yield isnt as high in terms of poundage, but you still get some great healthy food for cheap. Fishing tags are also a lot cheaper where I come from (about $25 for the season) and can be a great source of food as well.
What if You Dont Hunt or Aren't Interested?
To this I say that is just fine! To each their own. You don't need to hunt or fish to enjoy wild game meat. All you have to do is befriend a hunter. Last year, I had quite a few friends express interest in any leftover meat that I had, so I simply purchased an extra tag and harvested an extra animal. Once I was finished processing it, I gave 4 of my friends about 10 lbs each of multiple cuts of venison. They each got some sausages, steaks, roasts and ground venison. Everyone was so thankful they offered to pay me – I couldn't believe it, I had a great time out there and was happy to do it for free.
The next question I got was how do I cook this – which is also a simple solution. I explained the cuts of meat that each person got, and they went and searched for venison tenderloin recipes or whatever the cut was, and found a great recipe online. Lots of them shared the recipes with me, so it was nice to get some new stuff to try as well.
If you're looking for one great way to save on food costs, stay healthy and "beat broke", I encourage you to take up hunting or befriend someone that is a hunter. They can help you save a lot of money while they have fun outdoors!
Readers: Have you ever hunted before? If no, Are you interested? Why or Why not? Do you know any friendly hunters that may share with you?
Original image credit: Hunting Face, by Kristacher, on Flickr