Why buy anything if you can trade for it?  DVDs aren't an exception.  I've been using a service called Swap-a-DVD to trade DVDs for a while now.  It's actually a sister site of the site I use to trade books, paperbackswap.  (If I really wanted to, the credits are exchangeable between the two sites.)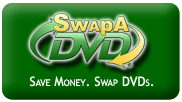 The premise is pretty simple.  You list the DVDs that you're willing to trade away, and create a wish list of the DVDs that you would like to see.  Other users request the ones you want to trade off, you ship them to the user, and then receive a credit for the DVD once it's marked as received.  Once you have credits, you can then order DVDs for yourself, either off of your wish list when they become available, or by finding DVDs that are already available.  Watch that one a few times, then list it to trade away, and you can cycle through them that way.
The only cost is the shipping to send the DVD off for credit.  Usually, it figures out to be about $2.50 a DVD.  Less than you can rent the DVD for from most places.  Most older titles are really easy to come by, with most of the new releases having some pretty long wait lists, but if you're willing to wait to see the newer movies, you just add them to the wish list, and you're added to the queue.  As soon as you reach the top of the queue, the next one added is yours!
We've used it pretty extensively to get movies for the kids.  Ones we either can't find to purchase or rent, or ones we'd like to hold onto for a while so the kids can watch them repeatedly as they usually do.  (We've seen Cars about 400 times…  I wish I was kidding. It was the only movie our son would watch for close to two years)  The downside, for us, is that the kids can be somewhat rough on DVDs and they get pretty scratched and we've had quite a few of them that were untradeable, if not unusable entirely, by the time they got tired of the movie.
But, if you've got slightly older kids that are a little easier on DVDs, it could work out really well.  And it works out really well for the movies that us adults like to watch too.
What other ways do you save on watching movies?