Guaranteed to Keep You Poor
There is way too much propaganda on the web about living frugally, cutting expenses and eliminating debt. I think this movement came about because of so many people using credit irresponsibly and inappropriately borrowing against home equity to finance vacations. While it is moronic to have credit card debt, the right type of debt is good and can make you wealthier. This is one of the ways that rich people think differently than poor people. The mathematics of earning and spending are this:  you can only reduce your expenses to zero but earnings are unlimited.  Therefore, where should one logically place their attention to have more money: to reducing expenses or maximizing income? To have your focus on expense-minimization is guaranteed to keep you poor.
Stupid Spending vs. Frugal Living
That is not to say you should not eliminate stupid spending, credit card debt, the BMW you cannot currently afford, etc. But to have a "frugal living" goal as the answer to your money shortage is not the answer.
"But it is so much easier to minimize expenses than earn more," you say. That is true but only if you think that way. When people who think like poor people want to buy something, they may think, "I can't afford that." A person who thinks like a rich person says to himself, "How can I afford that?"
How Rich People Think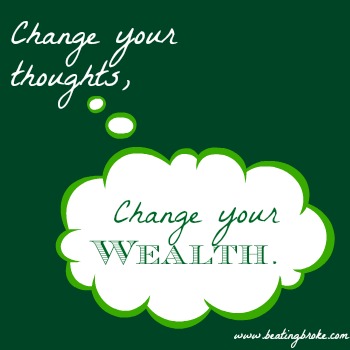 Note that I am defining rich people and poor people not by how much money they have but by how they think. You may recall the movie, "The Pursuit of Happiness" with Will Smith. In that movie, he was poor most of the time. But he always thought like a rich person. He had reduced his expenses to near zero by living in a subway station and realized that was not the optimal way to live. His principle rich person thought, that anything is possible, was a prerequisite for him to become a person with a lot of money. You may know that this story is not just a nice happy-ending story – it is the true account of Christopher Gardner .
How you think is not your fault. You have inherited the scarcity mentality of our culture . Most people in our culture think like poor people and that's why the top few percent have a concentration of the wealth. Notice that there is a bank on every corner in our country and each has a window sign urging you to come in and borrow their money at a very low interest rate. Yet, you think that money is scarce and hard to come by. Do you recall the dot-com boom? That era was earmarked by companies with no products, no revenues and no earnings easily able to raise billions of dollars from investors who couldn't wait to get in line. So you see, money is abundant and only in your thoughts is it scarce.
There are plenty of formulas for making money. But before you implement the tactics, make a decision to think like a rich person. Once you do, reality appears very differently and the probability of success is greatly increased. Here's how to think like a rich person.
Train Yourself to Think Like a Rich Person
| | |
| --- | --- |
| Your Current Thought | Your New Thought |
| I can't afford that | Let me write down three ways I would be able to afford that |
| I need to spend less | I need to earn more |
| My job does not pay me enough | In what ways can I be of value to people who will pay me? |
| I don't have the education/smarts/motivation to be rich | How can I offer my talents, skills and action to others in a way they will find valuable? |
| If I had a few more dollars, I would buy….. | When I get together xx dollars, I will INVEST in…. |
| Money is scarce | Money is abundant and flows to my commitment and action to provide what others value |
| Times are tough/the economy is weak | Never have there been so many people on earth free of poverty—people have more desires and more ability to pay for them than ever before |
Editor's Note: I think that more of us need to change the way that we think about money, and, by extension, we can decide to change your wealth.  It means having more than a budget for saving, but a budget for spending and investing that sets you up to increase your earnings and wealth.  You can change your wealth.