The price of groceries just seems to keep going up, and up, and up.  How much I've spent on groceries has nearly doubled in the last five years.  True, my kids are older and hungrier, but in general, the price of groceries themselves has increased.  In our household, groceries are our biggest monthly expense behind our mortgage.
If you're like my family, you're constantly looking for a way to cut your monthly grocery costs.
I've found that reducing grocery expenses largely comes down to making a plan and sticking to it.  There are several ways to do this.
Make a Monthly Meal Plan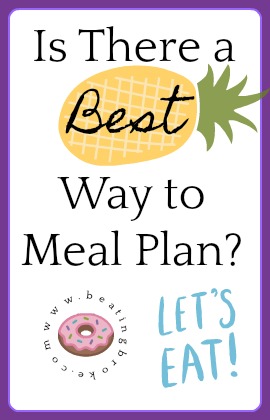 Some people lower their grocery costs by making a monthly meal plan and shopping once a month.  Of course, when I say shopping once a month, that doesn't mean it's the only time that they go to the store.  Rather, they have one large shopping trip at the beginning of the month, and then they go to the store 1 to 3 more times during the month to get fresh produce and milk as needed.
This technique can save money mainly because you keep yourself out of the stores and avoid impulse buys by doing so.  You've likely gone into the store to buy one or two items and found yourself walking out with a cartload of groceries.  Those impulse buys, even if there a good deal, can destroy your budget.  Those who shop once a month reduce their spending simply by reducing the number of times they allow themselves access to the grocery store and impulse buys.
Make a Menu Plan
Another technique is to make a weekly menu plan based on what you find on sale in the grocery store flyers.  Between the items that you see on sale and the items that you already have in your house, you make a menu plan and shop for the loss leaders and whatever other items you need to make your meals.
Shop First
Still others go to their favorite store first and scout out the good, unadvertised deals.  For instance, if pasta is on clearance, they may buy many bags of it and have several pasta meals that week.  If they find a great deal on beef, they may make a stroganoff using the beef and pasta for one meal, and a spaghetti bolognese for another meal.  These planners find the good sales and then make a menu plan.  Once they get home, they rely on Pinterest, the internet and sites like MyFridgeFood to help them decide what to serve based on the great sales they found.
For years I have debated about which method works best and which one saves the most money.  But, the bottom line is that you must choose the method that works best for you and your family.  In this season of our family life, method two works best for us.
However, it doesn't matter which method works best for your family.  What really matters if you want to cut your grocery costs is that you have a plan and you utilize one of these three methods.
What is your favorite way to menu plan and save money?  Do you prefer one of these methods or a different one?
Melissa is a writer and virtual assistant. She earned her Master's from Southern Illinois University, and her Bachelor's in English from the University of Michigan. When she's not working, you can find her homeschooling her kids, reading a good book, or cooking. She resides in New York, where she loves the natural beauty of the area.