Excuses, excuses, excuses. I'm seeing them on forums, blogs, and comment sections. There is always some reason why people can't start investing today. The most widespread excuse is "I don't have the money to start". Today, we are going to solve that, because we're going to show you how to turn your old junk into investments.
I recently started my journey towards living frugal and have learned a great deal of lessons since beginning. One of the most important lessons is the need to invest early on in life to take advantage of compound interest and a good rate of return.  The problem? I didn't have the cash to put towards an investment. I could have made excuses, but I didn't. Instead, I found a way to earn the cash.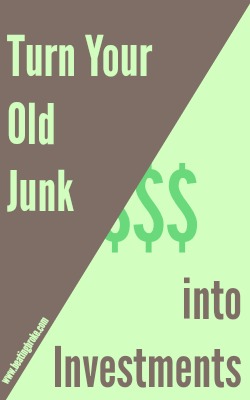 Is your garage littered with old junk you never use, or do you have unloved trinkets laying around your living room? If you're anything like me, you do. If you want to clean up your space and make some cash in the process, you could look into selling your old junk.
Your trash could be another person's treasure! You never know what people are looking for, in terms of old kitchen appliances, old tools, even old art or trinkets. Someone might be looking for a blender jar for a broken blender, and you might have one laying around from an old blender you never bothered to get rid of.
Or, you maybe you recently upgraded your mower and you need a way to get rid of your old one. As you learn to live a more frugal life, you will realize there are cheaper ways to live a rich life than spending money on items you will only use a handful of times and then take up space in your home. Take those old mistakes into cash by selling your old stuff for cold, hard cash.
Here are a few steps that I took to get cash and start investing.
Sell it at a Pawn Shop
If you want to get cash quickly and with little hassle, you can take it to your local pawn shop. Make sure you price your stuff reasonably, otherwise they won't take it. Have you ever watched Pawn Stars? While your items might not be as rare or unique, (or maybe they are!) most pawn shops are similar to the shop in Pawn Stars- they are most likely not going to offer you your asking price, they will price lower so they can sell higher to their next buyer. Remember, they need to make money too!
Pawn shops will take anything from old jewelry to DVDs to old lawn equipment. If you have specialty items, like art or antiques, research your local pawn shops to find the place that will give you the most money for them. Don't get sellers remorse at the last second though, they may not be willing to sell it back to you!
Have a Garage Sale
The thought of a pawn shop may be too impersonal, and if so that is okay! You could always sell your stuff at a garage sale. This requires a little more planning- you will want to make signs and price your items individually like a department store. You will also want to enlist the help of friends or family to help collect cash, answer questions, and make sure nobody walks away without paying.
Garage sales can attract all sorts of people, including young people, families, and collectors. Some might not have the best intentions, so it is good to have a system that makes sure no buyers can walk away without paying for their items. Trust me, they will try! A garage sale gives you the opportunity to tell the story behind your pieces and watch them walk away to their new home, which is much more personal then selling them to some guy behind the counter at a pawn shop.
Sell on Craigslist
For higher-value or larger pieces you may want to post them on Craigslist. Craigslist gives you the opportunity to reach out to more potential customers without having to ship a bulky or expensive item. If you are worried about the crazy stories you have heard about Craigslist deals going bad, you can enlist the help of a friend or family member to accompany you.
Don't meet buyers at your house or late at night. It is preferable to meet them in a neutral location, such as a parking lot or mall, with a friend or family member with you. Make sure to ask the potential buyer to bring cash- do not accept checks, money orders, or anything else! There are plenty of scammers mucking about on Craigslist, but there are also plenty of serious buyers.
Sell on Ebay
Ebay is perfect for smaller items, like kitchen appliances, clothes, jewelry, and trinkets. People from all over the world use this website and are usually excited to find pieces that are just exactly what they are looking for. You can give buyers the opportunity to bid on your items, or simply buy them outright. The only drawback of Ebay is that you will have to ship the items. Be sure to build the cost of shipping into your price, and be sure to pack your items securely! The last thing you want is for the item to arrive to the buyer broken.
This can be an amazing opportunity to reach buyers all over the world. You really never know what people in Michigan, France, or Thailand are looking for- it could be exactly what you have in your hot little hands.
Now that you've turned your old junk into investments
Selling your items online or in-person can add some extra cash to your pockets. Now that you have it, download the Robinhood app from the iPhone or Android store. The Robinhood app allows you to start trading with as little as $1. And the trades are free.
Don't let sentimentality destroy your future! Start investing now. I promise, that old lawnmower or ugly pillow you got as a gift aren't worth keeping. You may not get full retail price, but you will get more than you have in your pockets right now.