After leaving university I spent several years where I never seemed to have enough money, no matter what I did. Even when things were looking up, and I was feeling flush with cash, within a matter of weeks I was back to my old ways. For several years I bumbled along, seemingly always broke but with no idea as to why it kept on happening.
During that time, however, I started to spot a few "red flags". Traps that I kept on falling into time and again. And once I was able to identify those issues I found I was able to fix them reasonably easily. Within a short space of time I stopped being broke all the time and started to enjoy life that much more.
But what are some of the most common traps that will keep you broke?
You Spend Too Much Money
The most obvious reason why you're always broke is simply that you spend as much as – if not more than – you earn. Whether or not this is a major problem depends on *how* you're spending your money. In other words it depends on *what* you're spending your money on.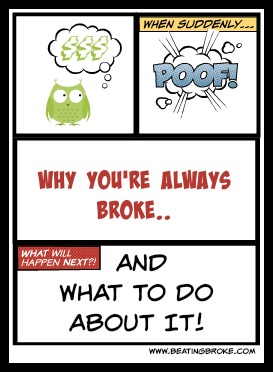 If you're living on just the basics, scraping together your next mortgage payment and putting basic food on the table then perhaps spending isn't your core problem.
However if you're wasting money on anything other than the basics and struggling to make ends meet then you have a problem. Perhaps you're living in a larger house that you need. Maybe you've got more cars than you use. Whatever the case, if you're always broke because you keep on spending money there is a reasonably simple solution.
Firstly you need to "audit" your spending to see what you can reduce. Can you downsize to a smaller property or sell that unused car, for example?
Once you've downsized its time to create a budget to monitor your money, and ensure that you have enough money to cover the basics each month – without stress and without worry.
You Don't Earn Enough
If you're living close to the line, but you're not spending on any luxury items, then the problem might simply be that you're not earning enough.
Here you have two primary solutions. On the one hand you can try to get paid more for the work that you do. This means landing a pay raise at work, moving to another company who will pay you more or working hard to achieve a promotion at your current employer.
The other solution, which can even run alongside your career, is to do *more* work. Whether you get a second part-time job or launch your own side hustle you need to find ways to turn your free time into further funds. For example why not start a local pet sitting business, cut lawns in your neighborhood or launch your own blog?
Your Spending Isn't Equal
I used to work with a guy called "Bob".
Bob earned the same as me, but was always broke.
It took me a while to figure out what his problem was. Quite simply when he got paid he was so overwhelmed with all the cash in his account that he lived like a king for the next week; buying rounds of drinks for his friends, eating out, treating himself to another pair of new sneakers and so on. Soon enough the money ran out and he'd spend the next few weeks twiddling his thumbs waiting to get paid, complaining about how broke he was.
The biggest issue was that this became an unfortunate cycle. By the time Bob got paid he'd lived on pennies for weeks, so felt the need to "treat" himeself, and the whole cycle then started all over.
Bob's problem was that he didn't divide up his money into the time it had to cover. The solution is surprisingly simple; when you receive some money, whether thats wages or some kind of windfall, don't just look at it as a sum of money to enjoy. Instead, divide it up into the weeks it needs to cover, and then stick to this plan.
You might not feel as rich doing things this way; infact it can make your wages look decidedly boring. But what it *does* do is keep your spending under control, ensuring you'll have enough to make it comfortably to pay day.
You're Tempted By Bright Shiny Objects
Another friend of mine is a true "Apple fanboy". Every time they release a new product here's there, on launch day, at the front of the queue, credit card in hand. I dread to think just how much money he's spent over the last few years on Apple products, many of which are just slightly better than the version he already had.
Of course its not just gadgets that can be our "kryptonite". For some people its clothes, for others its parts for their car.
Not all of us have such an insatiable urge to spend, but when you do it can lead to some serious financial problems. That little voice in your ear is always encouraging you to splash out on that next new shiny object. Sadly, in our consumer society, its a battle that you can never win. Today's new phone is tomorrow's junk.
The trick to eliminating this source of overspending is appreciating it for exactly what it is. You need to accept what your obsession is doing for your finances. Furthermore, its important to understand that while the buzz of buying a new cell phone might be exciting for a few days – maybe even a few weeks – soon enough you're on the prowl for the next hit. Financial security, however, can last for a lifetime.
You Carry Debt
The last reason why many people are always broke is simply that they carry too much debt. They might earn a decent income, and they might even manage their spending carefully. But if a large chunk of your income is going on servicing your debt then this is money you can't spend. In essence your true income just keeps on going down as your debt rises.
The solution of course is a painful one; paying off that debt. In reality this often means spending *more* money on your debt initially, in order to start paying it down rapidly.
It might not be fun, but appreciate that the sooner you get your debt paid off, the sooner you'll have all that money to spend on other things. Indeed, it was this strategy that I applied when paying off my own debt. Imagine you're paying $250 a month off your credit card each month. With some cost-cutting you work out that you could actually pay $500 a month off.
Now, to many people losing out on $500 a month would be painful. However the trick is to consider whether you'd rather keep paying $250 a month for many years into the future, or whether you'd rather have a few months of discomfort, then have an extra $500 a month to enjoy for ever more. Clearly while the process to get there isn't easy, the second option is much more tempting.
I used to make plans for what I would do with all that money. I'd imagine all the cool things I could do, the places I could go and the lifestyle I could enjoy. And that, ladies and gentlemen, was enough to keep me moving forward on my goal. Right now try imagining a life without any debt – without any repayments being necessary. How much wealthier would you feel, and how much more would you enjoy life? Good. Now get to work!