One of the tried and true tenets of personal finance is frugality.  Either through penny-pinching and coupon clipping, or through budgets and smart spending, we aim for frugality.  We choose to be frugal either because we have high debt loads, or because we just want to save some money for some purchase.  In short, we're reacting to a scarcity of some resource.  In the case of many of us, that resource is money.
Through scarcity, we find ways to make things last longer, or stretch further.  We find ways to turn something raw into something useful.  Scarcity teaches us to be resourceful; not only with our money, but with our food, clothing, supplies, our whole world.
But, sometimes we get so wrapped up in embracing scarcity, and learning from it, that we forget to also embrace abundance.
Sometimes we even participate in abundance, but only because we claim that it's the scarcity that's the driving force of our action.
Today, forget scarcity.  Embrace abundance.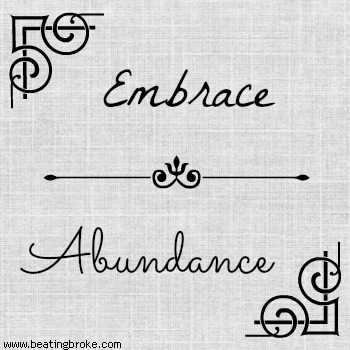 Just for a day.  (I think you'll want to do so longer, but start with a day.)
Embrace the things in your life that are abundant.  Embrace the abundant opportunity to partake in the last few days of summer and go to the park.  Swing.  Play with your children.  Or pets.  Or friends.
Embrace the abundant knowledge that you have in your local library, or through services like PaperbackSwap, and learn something.  Read a book. (Even if it's strictly for pleasure.)
Embrace the abundant joy that you have in your family.  Break out the cards or board games and enjoy their company.  (Even the one who's ruthless at Monopoly. )
It doesn't matter what it is.  But, don't do it because of scarcity.  Do it because there's something in abundance that you want to enjoy.
What do you have in your life that is overflowing in abundance?  Embrace it.