Are you looking to succeed with your money in your 20s?
I know, times are tough and you have no clue what's going on. You get paid and you want to go out. That's cool. The problem lies in spending your WHOLE paycheck. While money management talk can often be boring, I wanted to share some easy tips with you to get ahead with your finances.
I hate strict rules. I hate telling you what to do.
I do however really want to share 14 money rules for getting ahead in your 20s.
What are these 14 financial rules to keep in mind?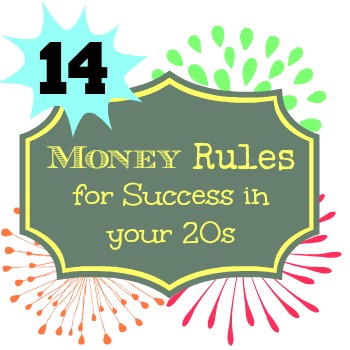 1. Look for ways to make money.
There are many ways to make money out there. I suggest that you always keep your eyes open for the next opportunity. It could be a weekend gig, a freelancing business, or even a promotion within your company. Always try to increase your income.
2. Find ways to save money creatively.
Saving money doesn't have to be boring. You can be creative with it. I recommend that you find ways to have fun with saving money.
For us it's simple. We try to see how long we can prepare our own food or go out and not spend any money. Making your own food and saving money can get fun, especially when all you have left is beans and tuna.
3. Stop buying drinks for girls.
Stop this nasty habit. Save your money.
While you're at it, try to go out sober. I guarantee you that it becomes more fun after a few times.
4. Go out on the cheap.
As mentioned earlier, you should try to go out on the cheap. I know that you're not going to stay in just because some financial blogger dude told you to. I get that. Can you try saving money when you go out though?
5. Take the bus for as long as you can.
I know that the bus can be annoying at times, but you can save some serious coin if you take the bus for as long as possible. I took the bus an hour each way when I was in school. I got my best studying done on it and I saved money.
Once you get a car the expenses go through the roof (maintenance, gas, parking, and car payments). This is can really take a huge chunk of your paycheck. Don't let it happen.
6. Hang out with friends that share similar views on money.
If you want to be frugal, you really need to surround yourself with frugal people. It's difficult to save money if your friends want to go out all of the time and spend money.
I'm sure your parents already told you this. You are who you hang out with.
7. Don't embarrass yourself to be cheap.
You also have to try not to make a fool out of yourself. Saving money is cool. Don't be weird about it.
For example, don't miss your best friend's birthday to save money. That's inexcusable.
8. Accept that you won't be ready for every opportunity.
When it comes to grabbing hold of chances that come your way and moving forward, it's okay to not be ready. You'll never be fully prepared for everything. You just have to go.
Earlier this year I signed up for a 10k run. The only problem was that I never ran before! It was humbling, but I managed to complete it in under an hour and not die.
You won't always be ready. That's cool.
9. Watch how you use that credit card.
I personally support student credit cards. I also sadly have seen many friends get into insane amounts of debt because of a piece of plastic.
I'm not your parent and I'm sure you've been lectured on this. So, just please try to watch how you use your credit card.
10. Never spend money to use your money.
Banks will try to rip you off. Don't let them. It's your money and you shouldn't be charged to access it.
I recommend finding a free checking account to save more of your money. It only takes a few minutes to switch.
11. Don't buy just because someone tells you to.
Buying a home should be the biggest decision you make in your 20s (aside from getting married). You should treat it as such. Don't buy a house just because someone tells you to.
Just this past week, a friend of mine bought a home because he heard it was a good time in the market. I doubt that he's ready for it, but he's now a home owner!
12. Don't move in with the next person you kiss.
You don't have to be single forever like me, but you also shouldn't move in with the next person who looks your way.
Where's this coming from? I helped a buddy move last March. He moved in with someone he met in January. By October he was out. He lost his deposit, the money he spent on furniture, and it ruined him emotionally for months.
Please try to stay calm with your relationships!
13. Rent as long as you can.
There's nothing wrong with renting. Don't let your buddy who works as a real estate agent convince you to buy. Keep on renting and saving money.
14. Pay your parents back.
Please pay your parents back somehow.
They worked hard forever just to support you, feed you, and make sure you stayed out of jail. Now let them relax.
A few years ago when I graduated, I bought my parents a trip to the Bahamas. They always wanted to go and I sent them away right before Christmas. They were tanned and relaxed for the holidays that year.
Thanks for sticking around with me. I wish you all the best with your finances in your 20s.
Don't forget to check out Studenomics!