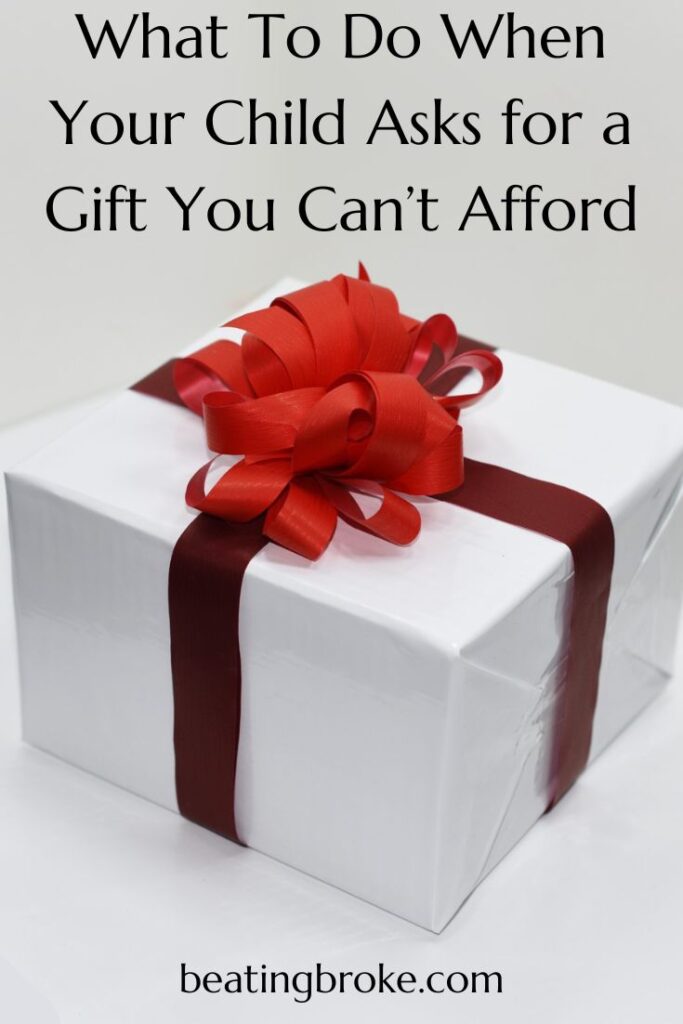 Most parents will experience the uncomfortable moment when their child asks for a gift the parent can't afford. This item may also be the one your child is most passionate about and feels he must have. In our case, my daughter, who was a huge Lego fan when she was younger, wanted a $300 Lego set. You may hate to say no to your child, but if they're requesting a present you can't afford, that's what you most likely must do.
How to Prevent This Situation
I always like to be proactive, so from the time my children were little, they knew our gift-giving budget for their Christmas presents. Rather than being a damper on their holiday joy, my kids were able to work creatively around the amount. This had two benefits:
First, they didn't ask for gifts beyond the budget because they knew we couldn't buy them.
Second, my kids learned to look for deals. For instance, my 13-year-old daughter wants several items from Bath and Body Works, so she already gave me her Christmas list and told me that Bath and Body Works is currently having a sale, so that I can buy her more within the budget.
What to Do When Your Child Asks for a Present You Can't Afford
If you can't afford the item, you have several choices so your child can eventually get it.
Ask Grandparents to Chip In
If your child's grandparents, aunts, and uncles typically buy her a present, you can ask them to all chip in with you to buy the expensive gift she wants.
If the gift is still too expensive or others who buy her gifts don't want to chip in, you have other options.
Give Him Additional Chores to Do
You can explain that he would value the item more if he saved for it himself. To help him with that, you can give him additional chores around the house so he can make money more quickly than saving his weekly allowance.
Match Your Child's Savings
As she earns extra money for chores, you can offer to match her savings rate. If she saves $100, you contribute $100. Especially if your child is younger, matching savings is a great way to keep her motivated; otherwise, saving for an item that is several hundred dollars may seem impossible to attain.
Final Thoughts
Some parents feel they should give their children the gifts they ask for, even if they're expensive and require the parent to get a second job to give their children an unbelievable Christmas. However, my husband and I believe in setting a budget that the kids are aware of so they know not to expect too much. If the item is too expensive for our budget, we'll help the child by offering extra chores and matching what they save. After all, we adults can't get everything we want. We are constrained by a budget and must work extra hard to get those things we want that are out of our budget. This is a good lesson for kids to learn, too.
Read More
9 Ways to Get Your Child a Christmas Gift If You Can't Afford One
What Christmas Expectations Are You Setting for Your Children?