It's Christmas morning.  Your kids excitedly rip open their presents, and all day long, you can barely pull them away from their new toys.  If you're lucky, the excitement lasts a week or two.  But then, unfortunately, the new toys lose their appeal and luster.
Does this sound familiar?
If you want to avoid the kind of gifts that quickly lose their luster, consider giving your child a monthly subscription present.  Then, the joy of Christmas lasts all year long as each month your child will get a new surprise gift!
Here are some you may want to consider:
Surprise Ride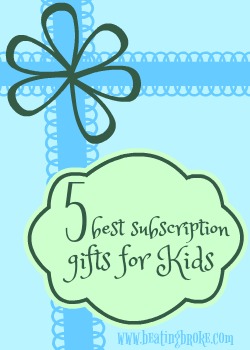 If you have kids who love books and crafts, this may be the subscription service for you (and them)!  Each Surprise Ride box includes two activities, a book and a snack, and extras.  A recent Surprise Ride with a polar bears theme included the supplies to make a polar bear habitat and a polar bear coaster, a Magic Treehouse polar bear book and ice cream snack, and polar bear bracelet and snowflake game. All activities are designed for kids 5 and up.  You can get the monthly subscription or pay for 6 months upfront for a $40 savings, or 12 months upfront for a $60 savings.
Foodstirs
Perfect for your little food enthusiast, aged 5 to 12 years.  Each month, Foodstirs will send a kit to bake a sweet treat.  The ingredients are organic and do not contain artificial dyes or flavors.  Some kits available at the holiday season include the Very Merry Gingerbread Cookie Kit and Holiday Tree Brownie Kit.  Kits are shipped for free, and when you subscribe for a 3, 6, or 12 month box, you can receive up to 28% off the retail price.
Pley
How much fun would it be to get a new toy to play with every month?  That's the premise behind Pley.  You choose a toy for your child from 500+ toys available for children from 0-12 years old.  Your child plays with the toy for a month; then you send it back and get a new one!  Avoid toy clutter in your home, and your child won't bore of his toys!
Little Passports
Little Passports offers four different subscriptions: Early Explorers (ages 3 to 5), World Edition (ages 6 to 10), USA Edition (ages 7 to 12), and Science Expeditions (ages 9+).  The first three subscriptions focus on geography, and the latter on science.  The geography subscriptions include stickers for your child's passport, souvenirs, photos, letters from the travelers, and online games.  Subscriptions are available for a variety of months and are cheaper when you commit to a 12 month subscription.
Kiwi Crate
Kiwi Crate offers monthly subscriptions for five levels, from ages 0 to 16.  Choose the crate that you would like.  For instance, in the Doodle Crate, for ages 9 to 16, your child can learn how and build their own clock with the supplies given!  A Tinker Crate for ages 9 to 16 offers a STEM project like creating a hydraulic claw.  Kiwi Crate offers subscriptions monthly, for 3 months, for 6 months, and for 12 months again, with the biggest discount going to the longest subscription.
Do your kids subscribe to any subscription services?  If so, which one is your favorite?
Melissa is a writer and virtual assistant. She earned her Master's from Southern Illinois University, and her Bachelor's in English from the University of Michigan. When she's not working, you can find her homeschooling her kids, reading a good book, or cooking. She resides in New York, where she loves the natural beauty of the area.