Right before going to grad school, I went to my first garage sale. I bought a blender for $3, which I still have today, 20 years later. That was my first garage sale, and I became a fan of buying used from that moment on – mainly because it helped me stretch my meager income.  However, there are also dangers of buying used. In certain situations, buying secondhand can cost you more money or compromise your health.
Bugs
Furniture is expensive, so buying used can be enticing. After all, you could save quite a bit of money. Instead of buying a $900 sofa, you could get it from the classifieds for $100 or so. But often, the savings isn't worth it.  Buying couches, mattresses, and other soft furniture can potentially give you bedbugs or fleas.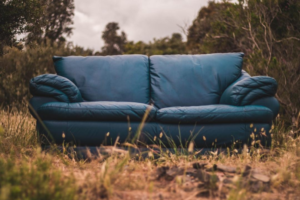 While this isn't very likely, buying furniture contaminated with bedbugs or fleas is a possibility. If you are one of the unfortunate ones who buys used furniture with bugs, you could be paying much more out of pocket than you would if you had just bought the furniture new.
"A full bed bug removal, expect to pay anywhere from $500 to $1,500 depending on the method you choose and the experience of the exterminator," according to Angie's list.
Safety Issues
There are also other items you can buy used that pose significant safety hazards, such as used car seats and helmets. Did you know that car seats have an expiration date? They do, and using them beyond that point may mean that they're less sturdy and reliable.
In addition, you cannot always tell if a car seat has been in an accident.  If it has, the recommendation is to buy a new one because it may no longer provide adequate safety if it's in another crash. Buying used helmets is risky for the exact same reason.
Mold
This is not a topic that many people are aware of, but 24 percent of the population is mold-susceptible. That means, if they're exposed to toxic mold, their bodies have difficulty getting rid of the mold internally. Often, these people become ill – depending on the level of exposure.  Obviously, when you buy used, you don't know what kind of house and environment the item has come from. Furniture, books, clothes, anything that is soft or made of paper, may harbor toxic mold spores, which could make you, or any member of your family that is mold-susceptible, sick.
While most people who enjoy buying second hand have no difficulties, there are obviously dangers of buying used as stated above. You can avoid these by being picky about the items that you buy, or you can choose to stop buying used at all.
I, and two of my children, found out this year that we're mold susceptible, which has caused a few of our health issues. I'm no longer buying most products, especially those that can harbor mold spores, used. It's either spending good money on a product that will last, or buying the most frugal option for something such as kids' shoes that my children will grow out of quickly.
Do you have limits on what you will buy used? If so, what are those limits?
Melissa is a writer and virtual assistant. She earned her Master's from Southern Illinois University, and her Bachelor's in English from the University of Michigan. When she's not working, you can find her homeschooling her kids, reading a good book, or cooking. She resides in New York, where she loves the natural beauty of the area.