Spring is right around the corner, and for many, that means spring break.  However, if you are a college student or you have a child who is one, know that spring break for many kids doesn't mean traipsing off to a beach location to spend the week drinking and partying.  For many others, spring break can be a time to help others.
The best of both worlds is traveling to new locations AND helping others.  There are plenty of spring break options to let you do just that, and the opportunities aren't just for college students.
While there are many reputable companies that you can choose from, these are a few to get you started.
International Spring Break Options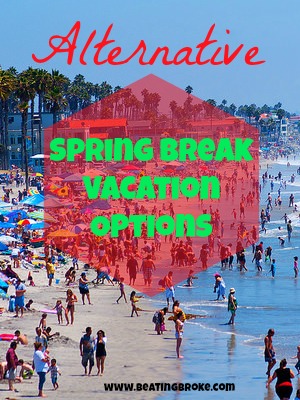 GoVoluntouring.  This company lets you choose your volunteer opportunity based on age, the amount you can spend, duration, and what attractions and countries interest you.  GoVoluntouring has projects in many, many different countries from Croatia to Fiji to Iceland, just to name a few, and has opportunities from teaching abroad to environmental programs to wildlife programs.
Earthwatch Institute.  Earthwatch Institute's focus is on environmental trips including climate change, ocean health, and wildlife expeditions.  They have trips available in every continent.  Another nice feature of Earthwatch is that if you spread the news about the company via social media and other avenues, you can receive a discount on your own travel.  Just sign up to be an Earthwatch Ambassador to take advantage of this program.
National Spring Break Options
American Hiking Association.  If you'd like to volunteer without getting a passport, you might consider the American Hiking Association's opportunities to travel within the U.S. and volunteer.  You can search by the state you're interested in traveling to.  Then, you'll see how difficult the volunteer opportunity is, ranging from Easy to Very Strenuous, with three additional grades in between.  A moderate project (one step up from easy) might be performing trail maintenance at Fort Pickens in Florida.  A very strenuous project might be one that requires 6 to 10 miles of hiking a day in addition to trail clearing and maintenance including removing dead trees and repairing or installing turnpikes on the trails.
If you want to serve here, be aware that each trip generally only has 6 to 13 participants, so space is limited.  They currently still have openings in their program.
The United Way.  The most cost-effective alternative spring break program is with the United Way.  For a cost of approximately $275 to $395, you'll have the chance to volunteer for a week and work on projects such as building houses, maintaining gardens, and assisting youth.
Of course, you don't have to go with one of these companies.  There are likely plenty of opportunities to volunteer in your own community or to take a trip to a foreign country to help others through your church.
If you're going to spend money on a spring break getaway, why not also do good while you're there?  You'll likely experience the country and its people more than if you just sat on a beach as a tourist watching the sunset.
Have you ever taken a volunteer vacation?  If so, where did you go and what did you do?  If not, would you consider taking one?
Melissa is a writer and virtual assistant. She earned her Master's from Southern Illinois University, and her Bachelor's in English from the University of Michigan. When she's not working, you can find her homeschooling her kids, reading a good book, or cooking. She resides in New York, where she loves the natural beauty of the area.