Most of us have busy schedules, but for some of us, certain times of the year are busier than other times.  Maybe you're a tax accountant and are swamped from January through April.  Maybe your kids play soccer in the fall and you're busy with practices and games.  Whatever the reason, the busiest times of your life are also often the times when you spend the most money.  However, it doesn't have to be that way.
Right now, I'm working from home part-time, teaching three classes at our two co-ops the kids are attending during the week, homeschooling the kids, and shuffling my children to extracurricular activities.  Life is C-R-A-Z-Y!, and it will be until mid-May.  However, my husband and I have put a plan in place to avoid spending extra money during this time.  Our strategies include the following: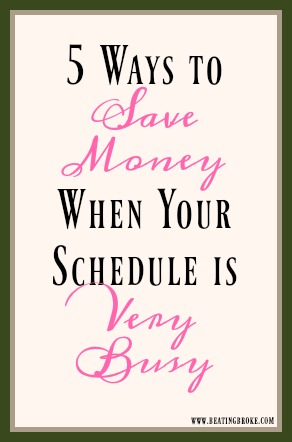 Utilize the Slow Cooker
Every year, I love my slow cooker more and more!  On busy days when I know we'll be gone all day, I put something in the crockpot in the morning, and voila, when we return at night, we have dinner waiting for us.  With such an array of great recipes on the Internet and Pinterest, I always have yummy meals to try.  We are typically using the slow cooker at least three times a week.
Utilize Freezer Meals
In December, before the craziness began, my husband and I spent about four hours spread over two days making approximately 40 freezer meals.  Now, when I'm too tired after a busy day or at the end of the week, I simply pull out a freezer meal and reheat it.  Seriously, it can't be any easier!
If you don't want to have a big freezer cooking session, simply double a recipe you are making and put the other half in the freezer for another night.  Easy, and you're future self will be so glad when you use that meal in a few weeks or months.
Let Some Standards Slide
You may want a clean house, homemade meals, and time to relax, but during a busy season in life you may not be able to have all three.  I refuse to compromise on homemade meals, and I need time to relax and read a book or I can't sleep, so the clean house is sliding a bit the next few months.  We have more clutter than we usually do, and the kitchen doesn't get swept and mopped as much as I would like right now, but as long as I'm keeping up with laundry, dishes, and minimal cleaning, I'm okay with it.
Find Cheaper Convenience Alternatives
If you don't have time to cook, you may decide to go out to eat.  Rather than doing that several times a week, find cheaper alternatives.  Maybe instead spring for a frozen family meal from the grocery store.  Yes, you're still spending more than you may have wanted to, but it's less than you would have spent going out to eat.
Find Other Ways to Relax Than Shopping
During stressful times, many of us are susceptible to retail therapy.  Some people may feel that is the only way they can de-stress and unwind.  Instead, try to find other ways to pamper yourself when your schedule is hectic like reading a book, taking a bubble bath, going for a walk, or talking to a friend.
How do you save money when you're in a stressful, busy season of life?
Melissa is a writer and virtual assistant. She earned her Master's from Southern Illinois University, and her Bachelor's in English from the University of Michigan. When she's not working, you can find her homeschooling her kids, reading a good book, or cooking. She resides in New York, where she loves the natural beauty of the area.