When we send our kids to school, we want them to receive the best education.  Having a healthy lunch to eat is a big part of that. But, if you choose to buy convenience packages of snacks and desserts as well as lunch meat, sack lunches can quickly become an expensive endeavor over the course of a year. Especially if you've got a hungry teenager. If you're looking to curb costs, consider some of these frugal sack lunch ideas.  Mix and match to make tasty, healthy, low cost lunches for your kids all day long.
Protein
Hard boiled egg(s)
Peanut butter (Use it on celery sticks, as a dip for veggies, or on a sandwich.)
Cheese (Make a cheese sandwich, or serve separately.)
Hummus (Use as a dip for veggies and crackers.)
Yogurt (Try yogurt covered frozen blueberries for a less messy option.)
Leftovers (Use leftover meat from dinners to supply protein like chicken, beef, etc.)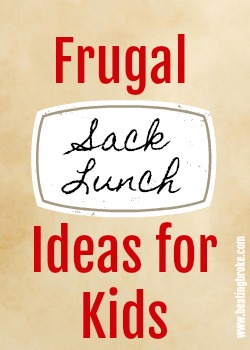 Fruit
Apple slices (Slice your own apples and dip them in a bowl with water and a bit of salt.  They won't brown and you'll save a lot of money compared to buying already sliced apples.)
Clementines (These can be put in whole or peeled and separated for younger kids.  Their small size makes them a perfect lunch box fit.)
Grapes
Dehydrated fruit such as berries, cherries, etc.  (A little goes a long way here, so you'll only need a few.)
Veggies
Carrot sticks (Don't buy baby carrots at the store; buy carrots in bulk and peel and cut them yourself.)
Celery (Serve plain or with hummus or a nut butter.)
Cucumbers
Grains
Tortilla chips.  (These are an excellent frugal option, and they can be more filling than regular chips.)
Homemade granola bars.  (Make them yourself and fill them will healthful ingredients like nut butters, oats, and dried fruit.)
Muffins.  (Muffins can be a sugar trap, so focus on the healthier recipes that are naturally sweetened with fruits.)
Where to Buy Your Ingredients
We've found that the best place to buy lunch ingredients is at big warehouse clubs like Sam's or Costco.  For instance, at Costco, you can buy a 10 lb. bag of organic carrots for $5!  Or, you can buy a big bag of potato chips for less than $4, which is much less than you'd pay at the grocery store.  You just need to take the time to bag these items in individual portion sizes.
Save Time By Preparing Ahead
If you look at the suggestions above and think there's no way you'd have time to prepare a lunch from scratch every day, especially if you have multiple kids, you're probably right.  Most of us don't have that kind of time early in the morning.
Instead, prep all of the lunch ingredients for the week on the weekend.  Have them all packed and ready to go in the pantry and the refrigerator so you or your kids just simply have to grab them and pack them in the early morning rush.  Or, to be safe, prep on the weekend and prepare the lunches every night so you just need to grab them from the refrigerator in the morning.
Feeding your kids a brown bag lunch can be affordable. . .if you choose the right ingredients, and use these frugal sack lunch ideas.
How do you save money on your kids' sack lunches?
Melissa is a writer and virtual assistant. She earned her Master's from Southern Illinois University, and her Bachelor's in English from the University of Michigan. When she's not working, you can find her homeschooling her kids, reading a good book, or cooking. She resides in New York, where she loves the natural beauty of the area.