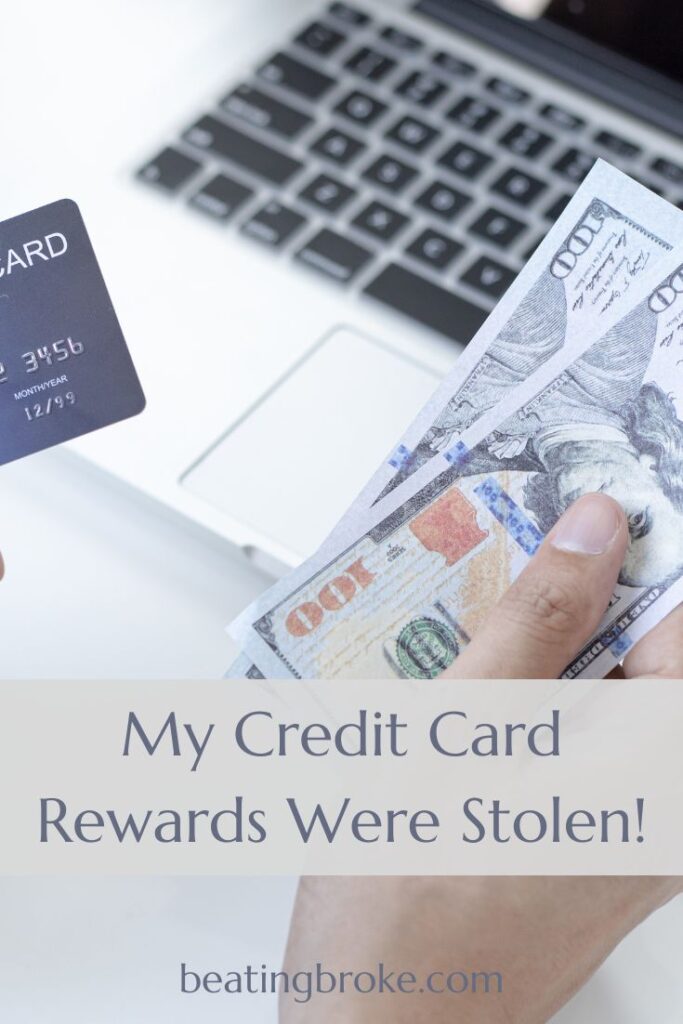 I do an excellent job of keeping my credit secure. Over 14 years ago, my husband and I froze our credit; we only thaw it for a day or two when someone needs to make a credit inquiry for a new line of credit. In addition, we use a credit monitoring service, and I check our credit cards at least once a week to record transactions in our budgeting software, You Need a Budget. Yet, despite my best efforts, my credit card rewards were stolen!
How I Discovered the Theft
I thought about traveling internationally and decided to check my rewards balance. I knew I had tens of thousands of points, but I couldn't remember how many. So imagine my surprise when I looked and saw only 9,000 points!
I looked at my redemption history and saw a 30,000 redemption for $300 worth of gift cards. The redemption took place on March 1st. I had been in my credit card account at least three times since the redemption, but I didn't notice the theft because I didn't check the rewards points. I'm embarrassed to admit that it took me three weeks to realize someone had cleaned my account of $300 in rewards points.
Called the Credit Card Company Immediately
I immediately called the credit card company. While the agent was friendly, she asked me several times if I had redeemed them and didn't remember or if my husband had redeemed them.
I live in New York, but the redeemed cards were addressed to my name in Houston, Texas. I told the agent that I never redeem my points for gift cards; she could look through my history and see that.
Steps the Credit Card Company Took
In the end, the credit card company took two steps.
First, they put my 30,000 reward points back in my account.
Second, they canceled my current credit card and sent me a new one.
Steps I Took
I also took steps to protect my account further.
First, I went to my other two credit cards, confirmed the correct number of rewards points, and then I cashed them out.
Second, I changed my passwords for all my online credit card accounts.
Third, I am investigating signing up for AwardWallet. This free program helps people manage the points for the many reward programs they signed up for. Best of all, users can set an alert to be notified if the balance changes. This program will help me realize the theft immediately instead of three weeks later.
Final Thoughts
While thieves have compromised my credit card several times, I was shocked to discover they stole my credit card rewards! I never thought of those as ripe for theft, but they are. Hopefully, I can ensure my credit card rewards are not stolen again by taking more protective steps. However, if they are, hopefully, I'll realize the theft more quickly than I did this time.
Read More
Make Improving Your Finances Your Part-Time Job
How to Freeze Your Family's Credit
Melissa is a writer and virtual assistant. She earned her Master's from Southern Illinois University, and her Bachelor's in English from the University of Michigan. When she's not working, you can find her homeschooling her kids, reading a good book, or cooking. She resides in New York, where she loves the natural beauty of the area.