What better way is there to beat the heat than to take a nice, refreshing dip in a pool.  Ah.  It doesn't get better than that.  But if you have kids, you may find paying a fee to use the local pool and carting the kids to the pool a bit of a pain, especially when they get back in the car to go home dripping wet.
Perhaps you've toyed with the idea of installing a pool at your house.  You may think that the kids would enjoy it, they could have friends over, you could use it for exercise, and it will increase your property value because who doesn't want a pool at home, right?
Slow down and rethink that decision.
Here's why you shouldn't install a pool at home: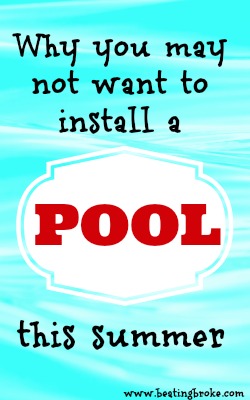 Pools are expensive.  There's the initial expensive of putting in the pool, which is quite a hefty sum.  "PK Data reports that the average cost of a residential in-ground swimming pool was $39,084. . ." (Money).  Depending on where you live, you'll also need to pay for a fence around the pool as well as a lock.  There may also be additional home insurance costs since a pool is a liability.  But, of course, the expenses don't stop there.  There is the cost of maintaining the pool, the chemicals to treat the pool, the expense of opening and closing the pool yearly.  You'll also likely see a spike in your utilities thanks to the pump and heater.
The neighborhood kids may not hang out at your house.  Many parents of teens want a pool because they think that their child will invite his friends over.  While that may be true, often teens want to hang out at the community pool or the beach where there are more teens.
Your kids may tire of the pool.  While your children may initially enjoy the pool and spend hours swimming and playing in it, like almost everything, their attention may wane.  It's not unusual for kids to hardly swim in the pool once they've had it for several years.
Other neighbors may visit frequently.  You may also find yourself getting unwanted neighborly visits.  My cousin's friend, Renee, had a pool, and almost every day a neighbor boy and his mom would stop by asking if they could swim.  Never mind that Renee had no children herself.  Every day she was placed in the uncomfortable position of either denying them or playing reluctant host to uninvited guests.
It likely won't add any value to your home.  One reason some people get a pool is that they figure the investment will pay for itself when they sell the house.  Unfortunately, that's often not the case.  "Sabine H. Schoenberg, a home improvement expert and founder of SabinesHome.com" states, "It's not something that's value-enhancing to a lot of people.  Just as there are people with positive feeling towards pools, there are those with negative feelings" (Money).
It can be expensive to fill in.  If you reach the time where you want to fill in the pool, you could be looking at $8,000 or more!
When we were in the market for a house, we looked at one that had a pool.  However, after researching all of the costs, I'm so glad we decided to get a house without a pool!
Which do you prefer?  A house with or without a pool?  Are you considering adding a pool to your backyard?
Melissa is a writer and virtual assistant. She earned her Master's from Southern Illinois University, and her Bachelor's in English from the University of Michigan. When she's not working, you can find her homeschooling her kids, reading a good book, or cooking. She resides in New York, where she loves the natural beauty of the area.