I'm not sure if you caught this or not.  I suppose if you live in California you might have heard quite a bit about it.  If you live far from California, like I do, you maybe haven't heard much about it at all.  But, apparently, California is in the midst of one of the worst droughts on record.  The California drought is so bad that the governor of California has declared a drought emergency.  During what is traditionally California's wet season…  Take a look at the U.S. Drought Monitor.
If you live in another state, you might ask yourself why the dryness of California should concern you.  Well, take a look at these numbers compiled from the 2007 Census of Agriculture.  California is the primary provider of a lot of the produce (fresh, frozen, and canned) that you buy.  They produce 99% of the Artichokes,  90% of the Avocados,  83% of Grapes,  79% of Lemons,  76% of Tomatoes, 73% of Lettuce, 65% of Nuts, 59% of Strawberries, and 59% of Spinach.  And that's just a sampling from that list.  They also grow 100% of the Pomegranates.  With no water to irrigate all those crops, some farmers are resorting to bulldozing (literally) their crops and leaving fields fallow.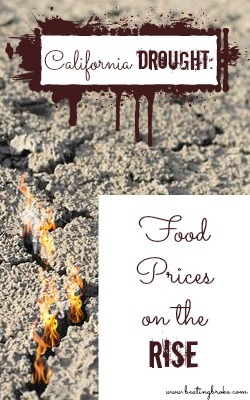 What will happen if 10-50% of the production in California is lost?  All those produce items that they contribute so much to are going to get really expensive.  This article on CNBC is reporting that prices are expected to rise by 1.25-1.75% across the board.  And it's not even clear if that increase takes into account the drought in California.  Even at an average of 1.5% increase, that's a pretty significant hit to the wallet.  Imagine if it gets closer to 5%!  What if it gets worse?
The truth is, it's not just the food cost that might be on the rise.  Power could be affected too.  Low water levels due to the drought could me a pretty significant drop in power generation at hydro-electric dams.  And those power generation shortages could mean power shortages, brownouts, and will most certainly mean an increase in the cost of electricity to users.
While the cost of power might stay somewhat localized, the cost of food is going to be universal across the country.  As the cost of produce increases, more and more people will buy less of it, and switch to eating more affordable food sources.  Except, there might not be any more affordable sources.  If cattle producers can't water their pastures, there's less grass for the cows to eat.  And if there's less grass to eat, they might have to start supplementing with grains.  Which will increase the demand on grains, and raise the price of grain as well.  The price of meat and dairy is likely to rise significantly too.
We'll see, of course, just how bad it gets as the summer season progresses.  Many of us will be desperately finding ways to stretch what produce we can buy, and create extra room in our budget for extra food costs.  It's not going to collapse the economy, I don't think.  At least not yet.  But it is very likely that it's going to create a very tight summer in many budgets.

I started this blog to share what I know and what I was learning about personal finance. Along the way I've met and found many blogging friends. Please feel free to connect with me on the Beating Broke accounts: Twitter and Facebook.
You can also connect with me personally at Novelnaut, Thatedeguy, Shane Ede, and my personal Twitter.