Phones.  They're a necessity for keeping in contact with others, having access to emergency services, and getting directions when you're lost.  Yet, if you aren't careful, the convenience of a phone can cost you anywhere from $50 to more than $200 a month.
My husband and I have cut corners with our phone service, and we couldn't be happier.
Ooma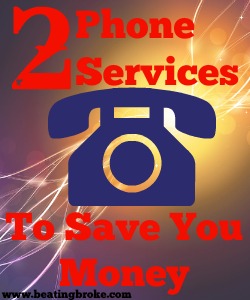 We chose Ooma for our land line.  Ooma is a system that operates through our internet connection.  We pay $14.99 per month, which includes call waiting, caller ID, and free long distance.  Oh, and that free long distance?  Apparently that means anywhere because my husband has been able to call his family in Japan at no extra expense to us.  Sweet!
While we love Ooma and the price we pay, there are sometimes glitches with this service.  For instance, when our internet goes down, we don't have telephone access.  Occasionally the connection is not as good as I would like.  However, these inconveniences are not regular occurrences, so we happily stay with Ooma.
Ting
My husband and I have had cell phones for a few years, but they were flip phones from Tracfone.  While they served us well for a few years, we got frustrated with Tracfone's customer service whenever we had an issue.  We also wanted to upgrade to smartphones.
When I won a giveaway for a free Ting smartphone, we decided to also get my husband one and switch our service over to Ting.
Ting is a unique company that charges based on the services that you use.  Our average bill is $34 a month for both of us to use our smartphones.  I love that price!
Billing is based on how much you use.
Each line costs $6 a month.
Up to 100 minutes a month costs $3.  One hundred to 500 minutes is $5 per month.  (This goes all the way up to $35 for 2100 minutes.)
Up to 100 text messages a month is $3.  Up to 1000 is $5.  (My husband and I primarily keep in touch during the day through texting, and we never get close to 1000 texts.)
Date is $3 for 100MB, $10 for 500MB, all the way to $20 for 2GB.
In addition, you can set limits on how much usage is available.  I imagine this is very important if you're on a budget or if you have a teen with a phone.  You can ask for notifications when you reach a certain level of minutes, texts, or data.  You can also choose to suspend service when you hit a certain limit or someone else on your bill reaches that point.
The best point?  There is no contract with Ting.
We've had our phones for about 6 months now, and we're pleased.  In addition, any time I've had questions, their customer service has been fantastic.
Ting has also branched out to providing Internet service at the same great value.  Unfortunately, that services is only available in a handful of towns in five different states.  I hope my location is available for Internet service soon!
Have you tried either of these services?  Did you like or dislike them?  What do you do to keep your phone bill low?
Melissa is a writer and virtual assistant. She earned her Master's from Southern Illinois University, and her Bachelor's in English from the University of Michigan. When she's not working, you can find her homeschooling her kids, reading a good book, or cooking. She resides in New York, where she loves the natural beauty of the area.