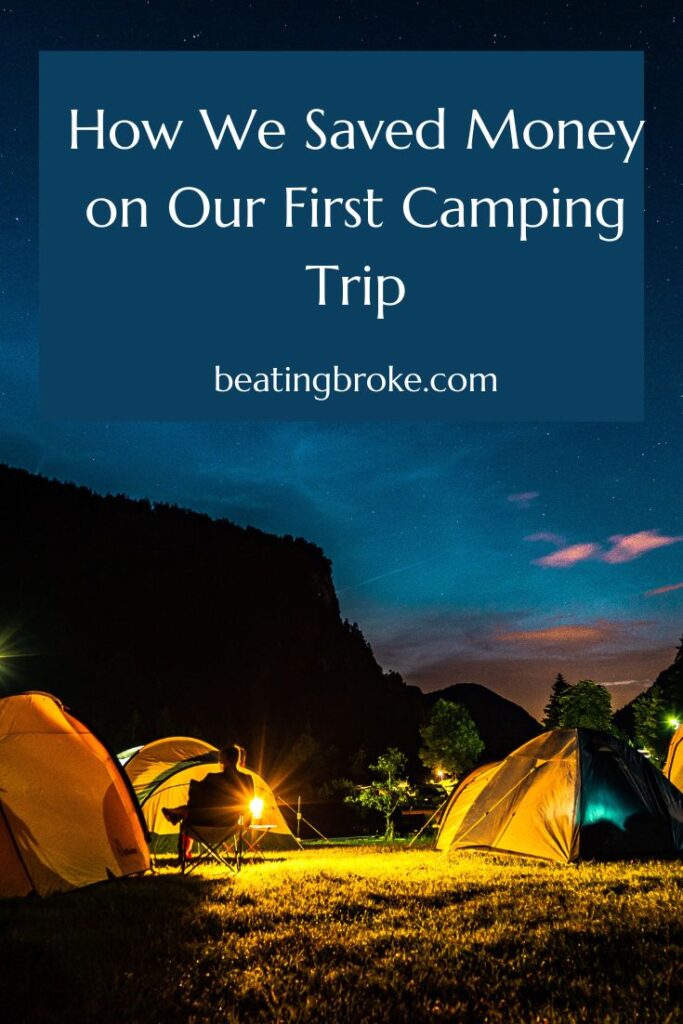 The last time my husband and I last went camping was 22 years ago. We weren't fans of the experience, so we never made camping a priority. However, several of our friends decided to go camping with their families this summer, and we somewhat hesitantly agreed to join. Even though we had no camping supplies, we saved money on our first camping trip using several different techniques. By the way, we didn't mind camping this time, especially since our kids enjoyed it so much. We have another trip planned in October.
How We Saved Money on Our First Camping Trip
We didn't want to buy a lot of items in case we decided (again) that camping wasn't for us. We only purchased the following:
A Tent
We bought a 9-person tent from Amazon that was $149.99. However, we bought it on sale for $99.99. In hindsight, I should have bought it in person. I didn't realize that the tent had large mesh openings that didn't have flaps inside to close them. Instead, there's a rain flap that goes over the whole tent. While the design is acceptable for summer camping, I think we'll get cold when we go in October because we can't close off the mesh openings.
Sleeping Bags
We had one sleeping bag at home, so we bought three more. I also purchased these on Amazon during a sale. Each sleeping bag was $22.99. After our first camping trip, our daughter's sleeping bag already had a hole. We weren't happy with that.
Camping Cooking Utensil Set
We bought a camping cooking utensil set for $24.99, which included a sharp knife and roasting sticks. Because we didn't want to spend any more money on cooking gear, we cooked all our food on a stick over the fire—hot dogs, s'mores, breakfast sausage. We called it stick cooking. Anything that we couldn't cook on a stick we ate cold.
Wood
On the day of the camping trip, we bought wood for $7.99. We went through that wood in one day, so we'll need to buy a larger quantity when we go in October.
We spent $202 on the abovementioned necessities for our first camping trip.
What I'd Like to Buy in the Future
If we continue to camp, there are a few other items we'd like to make the experience more enjoyable:
Inflatable Mattresses
My husband and I aren't young anymore, so we'd prefer sleeping on an air mattress rather than on the ground.
A Grill Grate
While cooking with a stick was fine for the first trip, it might get old on the second trip. If we camp more often, we'd like to buy a grill grate to put over the fire and hold a pan to cook eggs and other foods.
A Better Tent
Our tent is fine for warm weather, but if we continue to camp in the fall and spring, we'd like one that does a better job keeping us warm.
Final Thoughts
We spent $202 on our original outlay of camping supplies. We'll likely wait until we've had another camping trip or two to see if we need to buy more. Meanwhile, each camping trip we take helps reduce the price of our initial outlay of supplies.
Do you camp regularly? If so, which supplies do you find essential?
Read More
Do Fitness and Frugality Go Together?
3 Benefits of Budgeting One Month Ahead
How Getting Ahead Saves Me Time, Money, and Mental Energy
Melissa is a writer and virtual assistant. She earned her Master's from Southern Illinois University, and her Bachelor's in English from the University of Michigan. When she's not working, you can find her homeschooling her kids, reading a good book, or cooking. She resides in New York, where she loves the natural beauty of the area.