My husband was offered a job in Arizona, 1,750 miles from where we current live in Chicago, Illinois.  Because neither of us had been to Arizona before, we wanted to visit before we committed to living there.  Time was of the essence, and booking a last minute flight for the two of us was expensive, so we decided to drive.
We also decided to rent a car for the trip to save wear and tear on our car and pay less in gas (our family car is a minivan, so a small sedan would use much less gas).
Being frugal, I decided not to buy the rental car company's insurance.  I had called my auto insurance company, and they assured me that my coverage would cover any damage to a rental car.
By not buying the rental company's car insurance, I saved $100, or so I thought.
I was wrong.
Traveling Long Distances in Desolate Areas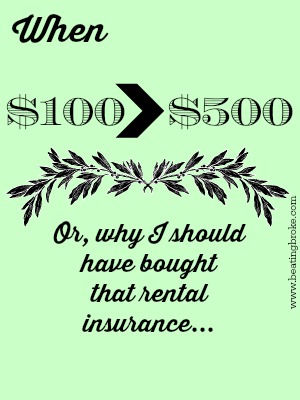 I was proud of my penny pinching ways until our first night on the road.  We were driving along a desolate stretch in Oklahoma; it was dark, and we were ready to stop for the night.  A semi was in front of us and swerved at the last minute.  We had no time to wonder why; a deer carcass was straight in our path.  Even though my husband swerved, he still hit it.  We felt the thump under our car and feared the worst.
When we got to the hotel, we didn't see any damage to the bumper, so we thought we had lucked out.
That thought soon faded when we were driving through Texas the next day and heard something clicking against the tire.  A piece of the interior bumper was hanging down and hitting the tire.  We pushed it back in and thought all was well until we hit the brakes in Santa Fe and felt resistance on the tire.  Yep, the piece had fallen down again.
Long story short, in Arizona, we traded out the vehicle for a different one and had to pay a $500 deposit for the repair.
Street Sweeper Causes Havoc
On the way back home, in our new rental vehicle, we ran into a street sweeper on the highway in New Mexico.  (Seriously?  I have never seen a street sweeper sweeping the highway!)
As we passed the street sweeper, what seemed like a million pebbles pelted our windshield.  I think my husband and I cursed in unison when we heard a particularly nasty hit on the windshield and saw a chip in the windshield, right in the middle of the driver's side.
Car rental number two, and another injury to the car.
Sigh.  Suddenly my decision to try to save $100 by not getting the rental company's car insurance didn't seem like such a good idea.
Luckily, when we turned in the second car, we weren't charged for the damage to the windshield.  (Any dent or scratch smaller than the size of a quarter, the rental car company let's slide.)
Still, my desire to save $100, ended up costing me $500!
Stay tuned for part two, where I'll explain in more detail why rental car companies' insurance isn't the waste of money we all think.
Melissa is a writer and virtual assistant. She earned her Master's from Southern Illinois University, and her Bachelor's in English from the University of Michigan. When she's not working, you can find her homeschooling her kids, reading a good book, or cooking. She resides in New York, where she loves the natural beauty of the area.