Some of life's necessities, like homes and arguably cars, cost more than most people can save in 5 or 10 years. This means they have to borrow money to be able to pay for their needs. Unfortunately, if you are like many Americans, you have probably borrowed money for things you want and cannot afford. The average American family carries more than $10,000 in high interest credit card debt. This is in addition to other loans like mortgages, car loans, student debt, and home improvement loans. It is important to spot signs you care carrying too much debt before the burden of interest rate payments starts eating into your savings and investments for retirement.
Are You Paying Down Your Debt?
If you are only able to make the minimum payments on your credit cards and other loans every month, it may take years to become debt free. If you are missing payments or just scraping by with the minimum payment, this is a sign of too much debt. A credit counselor may be able to help, or you may be able to negotiate with credit card companies for lower payments and interest rates. Companies will often alter interest rates and payment schedules for customers with a good payment history and credit score, but it is essential that you negotiate these terms before your credit dries up, your score is affected, or the company doesn't want to lower their rates for you.
Another way to lower credit card interest and pay debt faster is to transfer balances to cards with 0% to 3% APR introductory offers on balance transfers. Look for cards with offers of 12 to 18 months of reduced interest on balance transfers which will give you time to make higher payments on balances without accruing interest. A low interest rate means that even if you continue to pay your current minimum payment, you will be paying more on the principal/balance so you can reduce the amount you owe, and therefore the interest payments, faster. However, don't rely on transferring balances between companies – this is not a substitute for financial discipline and wise money management.
Have You Have Been Denied New Credit?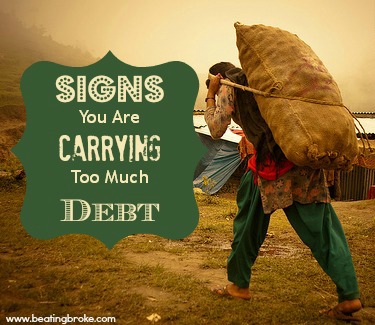 Too much debt can affect your credit score even if you make all your payments on time. Banks and other lenders look at both your credit score and your debt to income ratio when deciding whether to approve loans like mortgages. If your debt to income ratio is too high, meaning you would have difficulty paying additional debt, lenders will not approve new credit.
If a bank or other lender has rejected a loan application, they will send a letter explaining their reasons for denying your loan. The most common reasons are a poor credit score, unacceptable debt to income ratio and no credit history. While it is necessary to use some credit to establish a credit history and score, too much credit can make it difficult to get new loans, especially when those loans could be financing an investment opportunity that would contribute to your long-term financial security and wealth. Never let a new luxury car loan or excess spending impede your ability to take advantage of an investment opportunity.
If a high debt to income ratio is your problem, consider simultaneously lowering your debt while finding ways to increase your income. Like many financial bloggers explain, a side hustle can be crucial to meeting your future financial goals. You can research ways to make money from home, including freelancing, consulting, and teaching classes, or pick up a part-time job on the weekends, many of which offer health benefits that can save you thousands on premiums each year.
Does Every Paycheck Go Towards Paying Bills?
If everything you make is going toward paying off your debt, with very little or nothing left over, it is a sign that you are carrying too much debt. There should be some money left after paying monthly expenses like rent or mortgage payments, utilities, phone and groceries, for savings and small, unexpected costs called emergencies. If all the money left after paying your monthly expenses is going to pay credit card bills and other loans, you have too much debt.
No Savings
Financial experts counsel individuals to have at least 3 to 9 months expenses in a savings account to provide a safety net in case you lose your job or are injured and unable to work. This is in addition to retirement accounts and other savings and investments. Those with no savings or short term investments have to depend on personal loans, or worse, cash advance companies, if an emergency arises.
If you do not have enough left after paying creditors to put aside money for savings, consider taking a temporary part time job to help pay down debt and accumulate money for emergencies. Talk to creditors about reducing interest payments and start putting any extra money in a savings account or types of safe investments. The best advice is probably to change your spending habits. Avoid buying unnecessary items like expensive clothing, jewelry or the newest electronics until you have provided yourself with enough savings to cover emergencies.
Do You Pay Your Bills On Time?
If you do not pay your bills on time because you need to wait for another paycheck, you definitely should avoid overspending for a few months to catch up on your payments and avoid completely ruining your credit history. Living pay check to pay check is stressful and leaves no margin of error if you lose a job or even a day or two of work. Paying your bills after the due date costs more since most creditors and utility companies add a late fee as a penalty for late payments.
Talk to creditors about rescheduling due dates so you can make your payments more easily and try to consolidate and reduce as many payments as possible until you get your debt under control. Imagine how much happier you would be if you didn't have financial stress to compound all the other obstacles in life you already face.
Is Your Debt Making You Sick?
If you are struggling with debt, you may be experiencing stress leading to physical and emotional illnesses like ulcers, depression, headaches, high blood pressure and heart attack. It may also be taking a toll on your personal relationships, especially your marriage. Financial problems are one of the leading causes of friction and arguments in marriages. It can also cause people to avoid friends and family because they are embarrassed by their financial difficulties or because they can no longer afford to participate in activities with their friends.
While getting your finances back on track will help alleviate many of the symptoms of stress, talking to family, friends and/or professional counseling can help you get back into the life you once enjoyed. You may be surprised to find that other people in your circle are not as prosperous as they seem, and the support of friends and family can help you through difficult times until you get out from under your debt.
Final Word
In America, debt has become a way of life for most families. Instead of trying to keep up with the neighbors, try paying off bills, putting money in savings and keeping debt to a minimum. You may not have a new luxury car, but you also will not have the large payments and the stress that goes with buying things you cannot really afford.
Original image credit: Carrying a heavy sack of potatos by canorus, on Flickr