I belong to several Facebook groups, and recently, a woman in one group asked the seemingly innocent question, "What do you pay for cell phones and car insurance?"  She added, "We pay $180 a month for our cell phones and $345 a month for our car insurance."
Say what?
When you read that number, you automatically think one of two things–"Wow, she's paying a fortune for cell phones and car insurance!" (that was my initial thought), or, you think, "Sounds about right."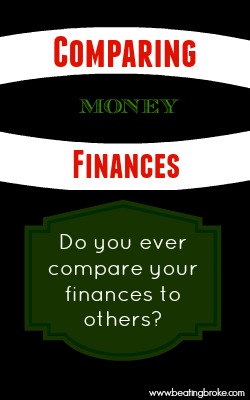 A few of you may even think she's getting a good deal.
My husband and I each carry a cheap cell phone from Tracfone that is for emergencies or occasionally checking in with one another.  We don't spend any more than $10 to $20 a month on them.  Our car insurance is about $55 per month.  (We only have one vehicle.)
After reading how much this woman spent, I was feeling pretty good about myself.  But why?  I really don't know her situation.  Her cell phone plan might include cell phones for the whole family.  Her car insurance is likely for multiple cars.  Maybe she has teenage drivers, or maybe she or her spouse has gotten a ticket recently.
Besides, I have no idea how much money she makes.  These bills might not be that extravagant in relationship to her income.
There's really no point comparing my situation to hers.  To do so would invite complacency toward my own budget at best, and a loosening of the purse strings at worst because, hey, other people are spending a lot more than me.
The Only Time You Should Compare Your Spending to Others
Generally, I try not to compare my spending or budget to others.  Circumstances vary widely, and knowing another person's exact financial situation is difficult.  Too often, especially online, we get a snapshot of someone's finances and think we see the whole picture when we don't.
We make assumptions of our own financial situations based on others.
Ultimately, we need to strive to do the best we can do with our own budgets.  To beat ourselves by spending less and/or saving more than we did the month before or the year before.
The only time it makes sense to look at someone else's finances and spending is when they are doing considerably better than you, and you want to learn from and emulate them.  For instance, I knew my husband and I were spending too much for groceries.  One blogger I read has grown a large garden and planted fruit trees so that she can feed her family of 9 for less than $300 per month.  (Yes, you read that right.)
I know I won't  ever have a grocery budget of $300 per month, but reading her techniques and strategies has encouraged me to cut my grocery budget and try to spend less.  It's even inspired me to try out once a month shopping to reduce costs.
Ultimately, we shouldn't compare our finances to others, but if we're going to, we should only compare to those we wish to emulate.
Do you look at other people's spending to make you feel better about your own or to motivate you to improve your finances?
Melissa is a writer and virtual assistant. She earned her Master's from Southern Illinois University, and her Bachelor's in English from the University of Michigan. When she's not working, you can find her homeschooling her kids, reading a good book, or cooking. She resides in New York, where she loves the natural beauty of the area.