Last July, our family moved from the near suburbs of Chicago to the suburbs of Tucson, Arizona.  We knew that there would be some significant changes to get used to, like the change in weather, but honestly, we weren't sure how our lives would change.
Had my husband not been offered a job in Tucson, we never would have considered moving so far away from family and friends.  However, making this move turned out to be a wonderful decision.
Even though my husband is only making $2,000 more than he was making in Chicago, our quality of life has improved tremendously.
Benefits of Moving to Tucson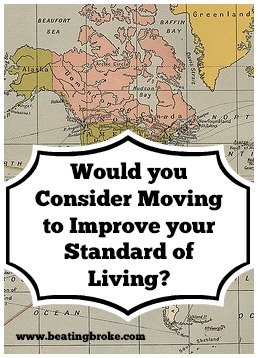 We can own a house.  In the near suburbs of Chicago where we lived, a house, even a fixer-upper, cost at least $300,000.  Then, there were the property taxes to consider, which ran $10,000 to $25,000 a YEAR depending on the neighborhood you live in.  In Tucson, we got a very nice house for less than $200,000, and our taxes are only $2,000 a year.
Our kids have room to play.  Even though we lived in the suburbs of Chicago, the population is so dense that the houses all have very small yards.  Plus, the house that we rented backed up to an alley, so I never dared leave the kids outside alone.  Now, we have a large backyard with a cement fence around it.  I can see the kids outside playing while I'm in the kitchen preparing food.  We love this feature of our new home.
Money stretches so much further in Tucson.  Although it's a challenge, in Tucson, I have a grocery limit of $125 a week.  There is absolutely no way I could have such a low grocery bill in Chicago.  It simply was not possible.  Gas here is much cheaper, too.
The environment is so much quieter and friendlier.  In Chicago, many people were just, well, grouchy.  (Not all of them, but certainly enough of them.)  We lived in a middle class suburb, and we had some sketchy characters in our neighborhood like a woman who lived down the alley and routinely dug through everyone's trash.  (I'm not making that up!)  There was also so much noise from the nearby fire station, trains, and constant traffic.  In Tucson, our neighbors are very friendly, there is no one sketchy (that we've met so far), and it's much, much quieter here.
Drawbacks to Our Move
We're far away from family and friends.  Most of them live in the Midwest, so we are far, far from family and friends.  That is a challenge.  If we move back to the Midwest, it will be because we want to be closer to family and friends.
Everything is so far away.  In Chicago, I was very spoiled.  I had three grocery stores within a two mile drive.  Our dentist and doctor were each less than 4 miles away.  In Tucson, everything is 10 or more miles away.  We have to drive a half an hour to get to our dentist.  Driving so much can take up a large part of our time.
I never would have considered moving to improve our standard of living, but now that we've done so, I can see what a great move it was for our family.  Our quality of life has improved dramatically, and this move is giving us a chance to improve our financial situation.
Would you, or have you, moved far away to improve your standard of living and financial situation?  Or is this something you would not consider?
Melissa is a writer and virtual assistant. She earned her Master's from Southern Illinois University, and her Bachelor's in English from the University of Michigan. When she's not working, you can find her homeschooling her kids, reading a good book, or cooking. She resides in New York, where she loves the natural beauty of the area.