One of the joys of getting married and having kids is that you then must face your own demise.  The poet Donald Hall wrote about this in his poem, "My Son, My Executioner" stating, as a man and his wife look down on their newborn son, "We twenty two and twenty five/who seemed to live forever/observe enduring life in you/and start to die together."
Cheery, thought, eh?
Estate Planning Isn't for the Faint of Heart
Yet, if you have children, you must plan for their future should you die while they're still young.  I know, no one wants to do this.  In fact, 4.5 years ago when I was pregnant with my last child, I sat down to do a will and trust kit that I got online.  I only got about three questions in, before, in my wild hormonal state, I broke down crying when I started facing the questions about when I would want the cord pulled.
It took me another four years to feel ready to have our will written.
I know.  Irresponsible.  Yet, it took me that long to accept that yes, I will die at some point, and yes, I need to plan for it now, while I'm still healthy and (relatively) young.
It Takes a Strong Wallet, Too
However, facing my own mortality was only part of the problem.  Once I was ready to have a will written, I had to face the fact that it was unbelievably expensive!
We live in the suburbs of a large city, so I don't know if that's the problem, but the first lawyer we contacted quoted us $2,500 to set up our will.  When I told him that we are living on a smallish income and paying down student loan debt, he generously agreed to put us on a payment plan without charging interest.  While I appreciate the generosity, we still couldn't afford $2,500, even on a payment plan!
Next, I contacted a lawyer from my small hometown, but he still was expensive, quoting $1,200 to $1,500.  As Dave Ramsey would say, "It's not in the budget."
A Frugal Estate Planning Option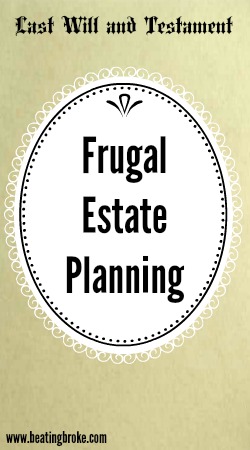 In the end, we made a compromise.  My husband and I both knew we needed a will in place, but we didn't have the kind of money lawyers were asking for.  Instead, we turned to LegalZoom.
For less than $250 total, my husband and I each had our wills drawn up.  We each answered a few simple questions online, and each will took less than 30 minutes to create.  Then we paid and waited for the lawyers at LegalZoom to look over the document.
Less than a week later, the wills came through the mail and were in our hands.
When we don't have so much debt and have a larger income, we plan to get a will and trust set up in person with a lawyer.  However, for now, on our budget, LegalZoom works perfectly.  We have a will in place should anything happen.
Have you used LegalZoom for a will?  Would you consider it?  Does $1,200 to $2,500 for a will created by a lawyer seem outrageous or normal to you?
Melissa is a writer and virtual assistant. She earned her Master's from Southern Illinois University, and her Bachelor's in English from the University of Michigan. When she's not working, you can find her homeschooling her kids, reading a good book, or cooking. She resides in New York, where she loves the natural beauty of the area.