The 4th of July is just around the corner, and with it, the official launch of summer.  A favorite American pastime, a barbeque 4th of July party offers you the chance to enjoy the weather and the company of friends while enjoying tasty foods.  If you don't have much money to devote to entertaining, consider moving beyond the traditional favorites of hamburgers and hot dogs and trying some of these unique, cultural party food ideas.
Main Meals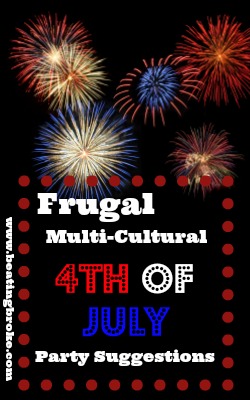 –Fajitas on the grill.  Buy some lower cost steak, chicken breasts and shrimp.  Season them, grill them, and then mix them together so each fajita contains a mix of the three meats.  Grill some onions and peppers on the grill, slice them, and make a fajita bar complete with tortillas, shredded lettuce, guacamole, onions, peppers and meats.  Of course, you can choose to use only one or two meats depending on what is on sale at the grocery store the week of your party.
For a solid review of which grills have the best value, consider checking out: smokeygrillbbq.com.  Its a nice little review site that I found last month – worth a read if you get a chance.
–Taco bar.  Prepare a few different taco fillings with homemade seasoning including ground beef, chicken, and a vegetarian option such as black beans.  If you have a bit more money to spend, buy some lower cost steak and also offer steak tacos.  For variety, offer flour and corn tortillas.  Then let your guests choose their main fillings, type of tortilla and their toppings.  (Perhaps choose from shredded lettuce, cheese, refried beans, tomatoes, onions, guacamole, etc.)  If you want to be even more creative, consider making your own pico de gallo.
–Pulled pork.  Be your own pit master and search the web for the myriad of homemade bbq sauce recipes.  Create your own bbq sauce and delight your guests with delicious, homemade pulled pork.
Side Dishes
Having spent the majority of your money on the main meal, consider these low cost side dishes.  Choose the ones that best match what you are serving as the main meal.
–Deviled eggs.  Even in today's economy, eggs average 10 to 15 cents a piece, making for a very low cost side dish.
–Japanese potato salad.  Potatoes can also be very cheap.  If you want a new, creamy twist on potato salad, consider making Japanese potato salad.  Your guests will most likely enjoy this newer version of an old classic.
–Corn on the cob.  At some road side stands and farmers' markets, you can find corn on the cob for 10 to 15 cents an ear.  Consider going beyond the traditional and instead making some Mexican corn on the cob popular at food stands.  Either add olive oil and red pepper, or add a blend of butter, mayonnaise and cheese.  Again, search a site like food.com to find a variety of recipes.
If you have a small entertainment budget, consider some of these meal ideas.  Most of them will require less meat per person than the traditional hamburger, and your guests will love the variety.
photo credit: Signe Karin
Melissa is a writer and virtual assistant. She earned her Master's from Southern Illinois University, and her Bachelor's in English from the University of Michigan. When she's not working, you can find her homeschooling her kids, reading a good book, or cooking. She resides in New York, where she loves the natural beauty of the area.