If you're like most families, you're busy.  You spend too much time in your car running from activity to activity, and you spend too much money buying food out on the nights you don't have time to cook.  Your house may be in a state of perpetual chaos.
This upcoming year, especially February through May, my family will be very busy.  To make sure that we remain organized, I've started using several tools and strategies.  Even though we'll be busy, I plan to still have time to make food at home, keep the house clean, and maintain my budget.
Tools I Plan To Use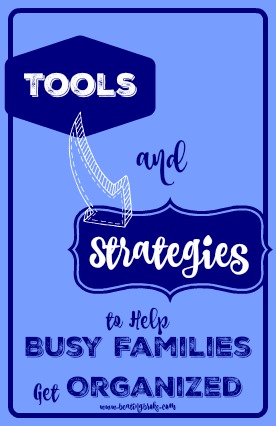 Motivated Moms.  Motivated Moms is an app or PDF file of a list of weekly chores meant to keep your home tidy.  I love that they think of tasks I always forget like clip the kids' fingernails and clean the toaster in addition to more basic chores like vacuum the livingroom, etc.
I bought the entire year PDF for $6.  The chores for each day will be assigned to me and my kids based on level of difficulty.  Between the four of us, I'm sure we can knock out the chores for each day in 20 minutes or less working together.
Subscribe to eMeals.  For busy families, eMeals can literally save you hundreds of dollars.  For just $69 for a 12 month subscription, which averages $5.75 a month, you'll get a custom meal plan for the week as well as a grocery list for all of the items you'll need.  eMeals has 20 different meal plans to choose from including Paula Deen, slow cooker, Paleo, and many others.  Just choose the one that works best for your family.  Best of all, most meals are never repeated, so you get variety all year long!
Strategies I Plan to Use
In addition to the tools mentioned above, I plan to implement a few strategies to stay organized.
Get up early.  I really don't like getting up early, but doing so let's me get some of my freelance work done and also gives me time to exercise.  If I exercise early in the morning, I know it will get done.  If I wait until the evening, I almost never exercise.
Make freezer meals.  In the upcoming months, we'll have three days a week where we will be gone all day, only coming home in time for dinner.  I've already started making freezer meals.  On the three busy days a week, I'll simply put the freezer meals in the slow cooker.  We'll come home to a hot cooked meal, eliminating the dinner scramble.  On the other days, I'll use eMeals' meal suggestions.
If you don't have a full day to devote to a freezer cooking session, just double the meals you are making for the next two weeks or so and put one half in the freezer.
Make a schedule and stick to it.  I plan to make a schedule I can stick to and follow it.  That will help me manage my time.  For instance, I do one load of laundry a day; I'll start it when I get up at 5 a.m. so it's done before the day gets too busy.
Keep a regular sleep schedule.  When people get busy, they tend to skimp on sleep.  I plan on going to bed no later than 10 p.m. so I'll be able to get up at 5 a.m.  I know skimping on sleep will ultimately make me less productive as the days go on.
Do you have a busy schedule?  If so, what tools and strategies do you use to stay organized and resist the temptation to spend money on conveniences?
Melissa is a writer and virtual assistant. She earned her Master's from Southern Illinois University, and her Bachelor's in English from the University of Michigan. When she's not working, you can find her homeschooling her kids, reading a good book, or cooking. She resides in New York, where she loves the natural beauty of the area.