We all love a good deal, right?  There's nothing better than paying $2.40 for a pair of kids' shorts that retail for $16 or paying $0.25 for Christmas wrapping paper at an after Christmas sale when it would cost you $2 or more to buy it new.
After all, buying things on clearance is what savvy shoppers do, right?  This is an excellent strategy for being frugal with your money, right?
Well, yes. . .and no. Are those good deals putting you in debt? Ask yourself these questions and decide if you really need that good deal.
Do You Buy More Than You Need?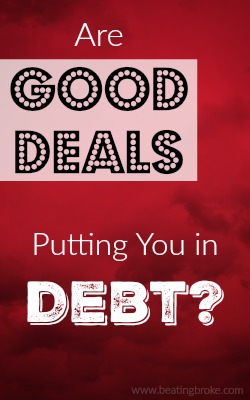 When something is on clearance 80% off, it's tempting to buy alot. . .more than you need.  After all, why buy one sweater at $5.00 on clearance when you could buy 8 for the cost of what just one would cost retail?  Besides, you're not paying any more than it would cost to buy a $40 sweater brand new, and you're getting 8.  What a deal!
But do you NEED 8 sweaters?  Will some of them languish in the back of your closet, with the tags still on, until you decide to purge your closet and give them away or try to sell them at a garage sale?
Can You Afford It?
Sometimes, you need to pass up good deals.  If you can't afford the deal and put it on credit card, are you really saving money?  By the time you figure in the interest you'll pay, that clearance sweater may end up costing you nearly as much as it would cost retail, or, if you pay only the minimum payment on your cards, even more!
Some people have gone in debt in pursuit of good deals.  Kristine Rogers, who was featured in Money magazine, explains that she went in debt buying children's clothes on clearance: "Gymboree held a clearance sale in which every item was priced at $7.99. 'I grabbed clothes my daughter didn't need.  I bought four of the same coat in different colors.'  By the end of the day, Rogers' compulsion had cost her $800."  Rogers developed a full blown shopping addiction in the pursuit of sales and ended up with $50,000 in credit card debt!  Sure, she got good deals, but in the end, after interest, she likely paid much more than she would have if she'd bought the items at retail.
Are You Tying Up Current Cash Flow?
Assuming you don't go into debt to buy good deals, you may still be tying up your cash flow.  If you spend $40 on 8 sweaters that you buy in May but won't wear until November, you're tying up cash flow.  If you don't wear some of those sweaters at all, you've wasted money despite the good deal.
Be More with Less explains, "If you buy wrapping paper on December 26th and stock up on sale items year round, you are spending more than you would if you just bought what you needed.  Don't be fooled by the cashier that tells you, 'you just saved $22.00' when you just spent $300."
What do you think?  Is it worthwhile to pursue good deals, or can it be a slippery slope to overspending and debt?
Do you buy items on clearance?  Do you always use all of the items, or do you accidentally buy too much?
Melissa is a writer and virtual assistant. She earned her Master's from Southern Illinois University, and her Bachelor's in English from the University of Michigan. When she's not working, you can find her homeschooling her kids, reading a good book, or cooking. She resides in New York, where she loves the natural beauty of the area.