Your budget is tight.  I get that.  You stare at your long list of debts and don't know where to begin.  You may wonder how to pay down your credit card faster even if you don't have extra money.  After all, you may be doing all you can just to meet your basic monthly obligations.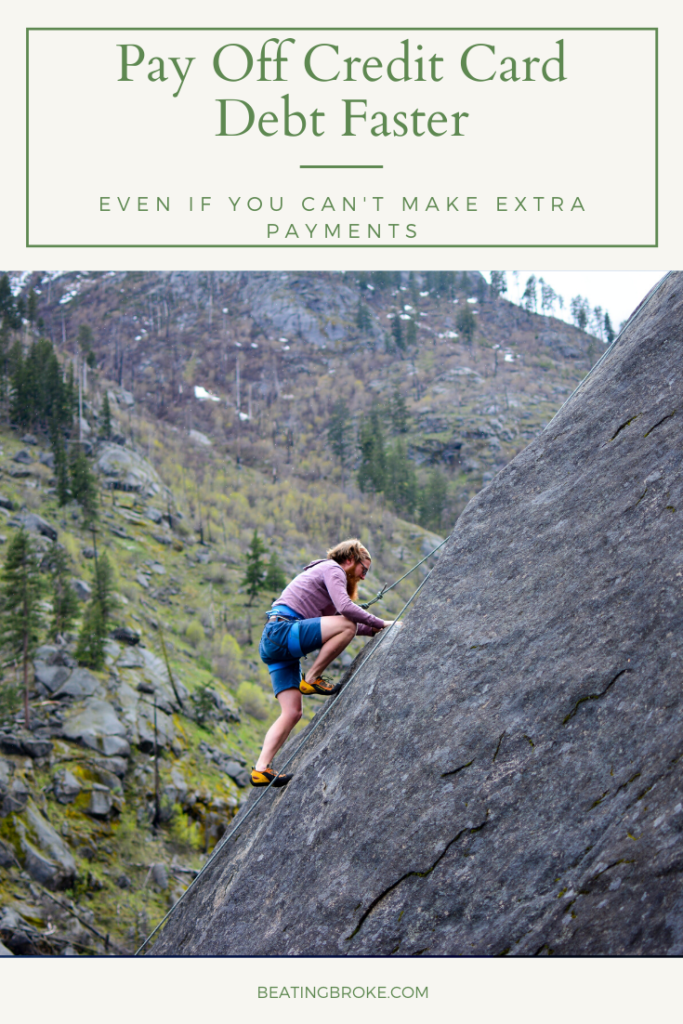 If you search the Internet for help, you'll likely find suggestions like eliminating eating out, visiting coffee shops, and buying designer clothes.  But what if you've already eliminated all of those extras, plus cable television, date nights out, and entertainment with the family?  What if you buy used clothes, have your grocery budget as low as it can be, and have changed to VOIP phone service?  Perhaps you've cut as much as you can.  What if you have nothing left to cut?
You may feel like you're in a desperate position, but there are still strategies to pay down your credit card faster even if you don't have extra money.
Stop Using the Credit Cards
Before you begin to employ any pay down strategies, the most important thing you can do is stop using the credit cards!  There's no way to pay down the balance if you keep using the card.  Let's be honest, if you stop using the card completely, eventually it WILL be paid off even if you don't use any strategies to pay down your credit card faster, even if you don't have extra money.
However, if you stop using the card and use the following techniques, you will slowly but surely pay off your credit card.  And, you will do it faster than if you just stopped using the card and paid the minimum payment every month.  (Sure, that's better than using the card and having a perpetual balance, but just paying the minimum will take you sometimes 20+ years to pay off the card.)  Instead, use a two fold approach:  stop using the cards and use these strategies: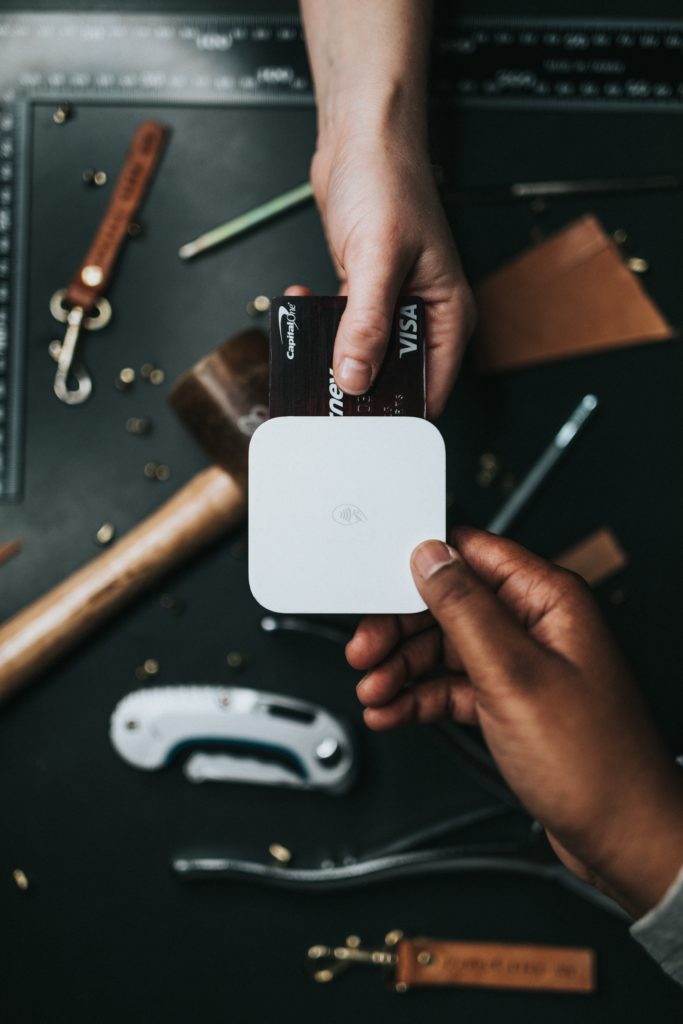 How to Pay Down Your Credit Card Faster Even If You Don't Have Extra Money
Use these techniques to "create" extra money to put on your credit card, which will slowly but surely help you lower those balances.
Switch to a 0% APR Credit Card
If your credit is good enough, you may want to try applying for a 0% APR card.  These cards often give you a 0% APR for 12 to 15 months.  Since you're not paying interest during that time, you can pay off your credit cards more quickly than if you were still paying interest.
If you owe $10,000 on a credit card, and you have an APR of 16.99%, each year, you're paying approximately $1,699 in interest on the card or approximately $141 a month in interest.  Now, imagine having a 0% APR for a year.  That means if you make your exact same payment as before switching to a 0% APR credit card, you're paying an additional $141 a month on the card instead of interest.  By taking advantage of a 0% APR credit card, you can reduce your balance by an additional $1,699 in a year!
Many of these cards charge a 2 to 4% transfer fee, so do the math first and make sure you will save money over your current card charging interest.  If the math works in your favor, consider continuing to use this strategy.  When the 12-month promotional 0% APR ends, switch your remaining balance to another 0% APR card until you have the card paid off.
Negotiate a Lower Interest Rate
If you don't have access to a 0% APR credit card, try to call your credit card company to negotiate a lower interest rate.  I've had good luck with this strategy.  Just recently, I called one of my credit card companies and asked for an interest rate drop.  They moved me from 13.99% APR to 10.99% APR.
Let's say again that you have a $10,000 balance.  If you're paying 13.99% APR as I was, then you're paying approximately $1,399 a year in interest.  Just this simple rate reduction to 10.99% APR means you'll be paying approximately $1,099 in interest per year, saving you $300 a year in interest.  That entire $300 can be used to reduce your overall balance, assuming you continue to make the same payment throughout the year.  This difference in interest rate means you have more money you can apply to the balance without increasing your monthly payment.
Pay Weekly or Bi-monthly
Most people pay their credit card monthly.  If you instead pay weekly or every two weeks, you'll pay down your balance faster without increasing your payment.
Why?  Two very important reasons.
First, your interest rate is computed based on your daily average, and if you pay more frequently, you'll lower your daily average.  If you normally pay $100 a month, just pay $25 a week instead or $50 every two weeks.
Second, if you pay weekly or biweekly, you're actually paying more than if you pay monthly.  If you pay $100 a month, you're paying $1,200 over the course of a year.  If, however, you instead pay $25 a week, you're actually paying more–$1,300 a year.  Sure, it's only $100 more on principal over the course of a year, but in time, that additional principal payment will make a difference in how quickly you're able to pay down the card.
Don't Lower Your Payment as Your Minimum Payment Drops
If you're currently paying your required minimum payment of, say, $100 a month, in a few months, that minimum payment will drop to, say, $97.  Don't drop your own payment.  Keep paying the $100 you're used to paying.  That extra will be put on principle without affecting your current budget.
Drum Up Some Extra Money
Finally, you can consider making extra money and snowflaking your debt off – such as making micropayments $1, $3 or $7 towards your debts. Good ways to make extra money are to take surveys, sell your space internet bandwidth, get a second job or start flipping things like comic books or furniture on ebay.
Final Thoughts
If you're looking at your bills and desperately wondering how to pay down your credit cards faster even if you don't have extra money, remember, there are strategies to help you pay off the cards faster.  Just using these simple steps will help you pay more on principal without putting extra money on the debt.  Of course, as you make additional money, you'll want to put it on the debt, but until then, you can gain traction with these strategies.
What other tips do you have for people to pay off their credit cards faster even if they don't have extra money to throw at the debt?
Read More:
5 Best Comic Book Storage Boxes and Bins
Melissa is a writer and virtual assistant. She earned her Master's from Southern Illinois University, and her Bachelor's in English from the University of Michigan. When she's not working, you can find her homeschooling her kids, reading a good book, or cooking. She resides in New York, where she loves the natural beauty of the area.