Do you have a budget that already feels tight?  Have you cut and cut but still have more month than money? Are you struggling to find more money in your budget?
I know how that goes.  Over the last few months, my husband and I have been working hard to cut our budget as much as possible.  We thought we'd cut all that we could, but I discovered one more secret, which, depending on your budget could help you "find" another $20 to over $100 a month.
So what's the magic secret?
Make your payments on a semi-annual or annual basis rather than on a monthly basis.
Paying Annual Can Provide Big Discounts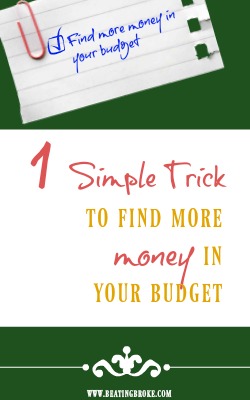 We have Ooma for our home phone line.  I pay $17.99 a month.  Recently I had to call Ooma because I was having an issue with the service.  After the customer service rep had finished helping me, she asked if I wanted to pay annually instead of monthly.  An annual payment would be $105, the equivalent of $8.75 a month.  In other words, I was paying an additional $110.88 a year for the convenience of monthly payments.
Our life insurance is the same.  When I checked into it, I realized that we would save $22 a month if we paid annually instead of monthly.
We already pay our car insurance semi-annually, but if we opted to pay monthly, we'd be charged a $2 per month fee.  Other car insurance companies charge as much as 5 to 10% more for a monthly payment.
Convenience is expensive.
Take a look through your monthly bills.  Are there any that you can choose to pay annually or semi-annually?  If so, how much will you save per month if you pay annually instead of monthly?  In our case, we "found" an extra $32 a month.  Sure, that doesn't sound like a lot, but over a year, it adds up to an additional $384 we now have that we didn't have before.
Two Caveats
Before you change your payment method, it's important to consider two factors.  First, if your budget is already tight, you may need to wait to switch to an annual payment until you have a windfall like a bonus at work or an income tax return.  If you're used to paying $80 a month for car insurance, even with a discount for paying annually, you may still be looking at paying $800 or $900 in one swoop, which can be difficult on a tight budget.
Second, only use this method if you know you'll be disciplined enough to set aside money every month for the annual payment.  If your annual car insurance is $800, then set aside approximately $65 a month so you'll have enough to pay the annual payment when it comes due.
Making payments annually or semi-annually can be a great way to find extra money in your budget, but before you change to this method, make sure that you have the discipline to set aside (and not spend) the money each month for the annual payment.
Do you pay bills like your insurance monthly or semi-annually or annually?  Which do you prefer?  Why?