When we moved from Chicago to Tucson 18 months ago, packing was a nightmare.  We hadn't had a good decluttering session in nearly 3.5 years, since our last move, which was local.  We spent weeks, yes, literally weeks, giving away and selling junk that we just didn't use anymore before we could even start packing our possessions.
When we moved to Tucson, I vowed to keep on top of the clutter and the household messes.  However, when we prepared to go on vacation recently and knew that our tidy neighbors would be coming in and out of our house for two weeks to cat sit, we realized we had a problem.  The clutter, and the messes, had returned since the move.
I spent several weeks decluttering again.  Several bags of items went to the local kids' resale shop; several boxes went in the garage earmarked for a garage sale later this year, and a lot of crap just got tossed in the garbage.
Now that we're decluttered once again, I can't believe how much better I feel.  From here on out, we're decluttering once a year.  Here's why:
Make Additional Money
I made nearly $100 at the kids' resale shop.  I opted for store credit to get 30% more money.  I'll use that over the next few months to get my kids clothes and birthday presents.  (Yep, the store sells NEW toys at a fraction of retail.)
I also made another $150 selling items on eBay.
We haven't had our garage sale yet, but based on what we have to sell, I think we'll easily make at least another $100.
Sure, these amounts aren't going to even buy us a month's worth of groceries, but we now have several hundred more dollars than we had a few short weeks ago, AND our house is much tidier.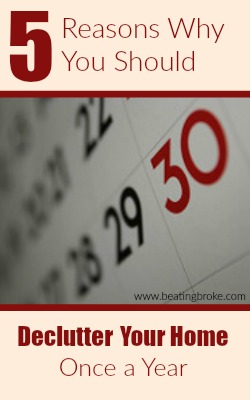 Save Money
There were several items like my son's arm shield for archery, our headphones for the computer, to name a few, that we were planning to replace because we couldn't find them.  Surprise, surprise, once we decluttered and cleaned up, we found these and many more things.  We saved ourselves from buying duplicates.  These small savings add up!
Kids Outgrow Things
Kids grow. . .A LOT!  Pants that fit last winter may be two inches too short this winter.  Games that they loved to play with last summer may be too babyish this summer.  Why keep all these relics of previous phases of childhood?  Clear them out so you have more room.
More Satisfaction With Being At Home
My youngest two children and I had a particularly painful decluttering session when we tackled all the papers, toys, and little pieces that were littering the floor in front of their toy area.  But how much better we all felt when we could see clean, empty floor in front of the toy shelves.  In fact, my children started playing immediately in that space and had a great time.
I notice now that the master bedroom is cleaner, I feel lighter and happier when I walk into the suddenly much more open space.
It's Easier To Maintain Your Home
We hope to stay in our home for many years, but the reality is that my husband may not have a job here in another year or two.  Until he secures a permanent position, we feel like our home is ours temporarily, so it's important to keep up a maintenance and cleaning routine in case we have to put it on the market some time.  Having a clutter free home makes this much easier.
What benefits do you get from a less cluttered home?
Melissa is a writer and virtual assistant. She earned her Master's from Southern Illinois University, and her Bachelor's in English from the University of Michigan. When she's not working, you can find her homeschooling her kids, reading a good book, or cooking. She resides in New York, where she loves the natural beauty of the area.