My husband and I were on the hunt for a financial planner for years.  We started out using one at our local credit union, but that one seemed to talk (and talk, and talk) more than he liked to invest.  Every time we saw him, the visit would last well over an hour as he chatted about everything under the sun, except investing.  When our investments with him remained stagnant over a two year period, we decided to move on.
Over several years, we interviewed several different financial planners and received either terrible advice (like investing all of our rollover retirement money in an annuity despite our relative youth) or didn't feel comfortable with the planner.  Finally, last summer, we found a financial planner who gave his advice based on our unique situation and the goals that we have.  All our hard work searching for a planner finally paid off!
If you're searching for a good financial planner, here are some things you might want to ask yourself: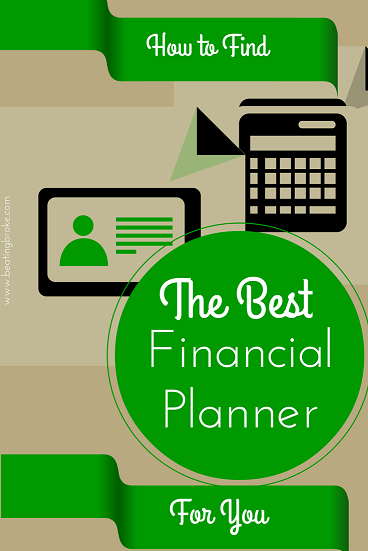 Does the planner come recommended? Stumbling upon a good financial advisor independently may be possible, but our planner came highly recommended from several people in our neighborhood.  In fact, one had been working with him for over 10 years!
Does the planner give advice based on your own financial situation? Some planners have stock and trade investment advice that they never deviate from regardless of your situation.  (Think of how Dave Ramsey always gives the same advice regardless of the caller's unique situation.)
Ironically, one thing that made us go with our current financial advisor is that he disregarded the traditional advice that one should NEVER take money out of a retirement account to pay off debt.  Because we couldn't seem to get out from under our debt no matter how gazelle intense we were, our advisor recommended that we pull out enough to pay off the debt in full.
Doing so was scary, but he was right–the tax implications were not as terrible as we had thought and being free of that debt gave us energy and confidence to achieve our financial goals including adding to our retirement every month and creating a good size emergency fund.
Is the financial advisor a teacher? Of course, I don't mean teacher in the traditional sense, but does he take the time to explain why he is recommending specific actions?  Does he want you to understand basic investments so you feel more comfortable with his advice?
Our first planner never did this, and we were quite clueless about why he made the financial investments he did.  Our current planner will take the time to explain, and if necessary, explain again until we understand why he is suggesting the investments he is suggesting.
What are the planner's credentials? Every planner should have some initials after his or her name.  Look these up on the web to see what obtaining them entails.  CNN Money suggests, "The ones you want to look for are the ones that take a significant amount of time and expertise to master before the designation is awarded.  These include the CFP (certified financial planner), the PFS (personal financial specialist) and the CFA (chartered financial analyst)."
How is the planner paid? There are several ways planners can be paid, but in general, be cautious with those who are paid on commission based on what products they sell to you.  While there are honest planners paid on commission that care about you and your interests, many are interested in selling the product with the fattest commission regardless of whether that product benefits you or not.
Do you use a financial planner?  If so, what criteria did you use to find the planner?
Melissa is a writer and virtual assistant. She earned her Master's from Southern Illinois University, and her Bachelor's in English from the University of Michigan. When she's not working, you can find her homeschooling her kids, reading a good book, or cooking. She resides in New York, where she loves the natural beauty of the area.