It's been a while since I last wrote about Swagbucks.  A little over a year to be exact.  And almost 3 years before that.  I've been using Swagbucks for a long time, I guess.  What is Swagbucks?
Swagbucks is a rewards program.  You earn rewards called Swagbucks for doing a variety of activities.  What sort of activities?  Glad you asked.
Swagbucks Search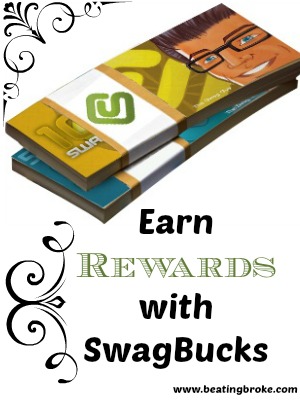 This is probably the easiest way to earn Swagbucks.  You can install the Swagbucks add on for your browser and set the Swagbucks search as your default search so that when you search in the location bar it directs you through their search engine.  When you use their search, you can randomly win Swagbucks.  It's not every search, but depending on your search volume, you might win about once a day.  Your winnings will vary, but they can range from lower amounts like 5 Swagbucks all the way up to 20-50.  The search feature is powered by Yahoo search.
Swagbucks Polls and Surveys
This is probably the second easiest way to earn Swagbucks through the program.  You log into the site and take a poll.  The payout is usually something like 2 Swagbucks for each poll you take and the polls are usually pretty short.  You can also take surveys which tend to be a little longer, but the payout, which varies, is usually a bit better as well.
Swagbucks Coupons
Swagbucks has a relationship with Coupons.com that allows for you to sign into their site and print off coupons.  Because of that relationship, there's always a pretty good selection of coupons on stuff you'll use all the time.  For each coupon that you redeem, you earn 10 points.
Swagbucks Shopping
Like most rewards programs, Swagbucks has agreements with all kinds of online retailers where you can click through a link on the Swagbucks site and then earn points based on the money you spend at the retailer.  For example, their homepage is showing 4 Swagbucks for every dollar spend at Walmart.com right now.
Swagbucks Daily Crave
This is a newer way (to me at least) to earn Swagbucks.  There's a link on the sidebar of the Swagbucks site that leads you to a new page that shows you some videos.  You earn a Swagbuck for watching a few of them.  Pretty easy to use and easy to earn a few Swagbucks each day.
Swagbucks Play
With the play feature, you can play online games for Swagbucks.  The amount you can win varies depending on the game, but certainly a great way to have a little fun and earn some Swagbucks easily.
It's pretty easy to earn Swagbucks and work towards rewards.  Do a few of these tasks each day and the Swagbucks will add up pretty quickly.  And trading the Swagbucks in for your rewards is pretty easily too.
There's two ways to redeem your Swagbucks.
Rewards
This is my favorite way to redeem Swagbucks.  For me, the thing I redeem them for the most is the $5 Amazon gift card.  It's only 500 Swagbucks.  There's a whole bunch of different places that you can get gift cards from, and you're sure to find at least one or two that you'll want to have.
Swagstakes
While it's never a sure thing, Swagstakes can be a fun way to redeem your Swagbucks.  Obviously, Swagstakes is a play on Sweepstakes.  You redeem your Swagbucks for entries into a Swagstakes with the hope that you'll win something worth way more than your Swagbucks are worth.  The entry "cost" varies by the Swagstakes, but most are less than 20 Swagbucks per entry.  I don't use this option very often as I tend to prefer the sure thing of a gift card, but I have entered a few of them.  Never won yet though. 🙁
Swagbucks is a pretty cool rewards site that I've been using for years and I've never had a bad experience with them.  Over the years, I've redeemed my Swagbucks for a whole bunch of Amazon cards.  Depending on how much I use the site, I've sometimes earned a new card every month.  On average, it's more like every 3-6 months though.  Still, for a few minutes a day, it's an easy way to save a bit of money on my Amazon purchases.

I started this blog to share what I know and what I was learning about personal finance. Along the way I've met and found many blogging friends. Please feel free to connect with me on the Beating Broke accounts: Twitter and Facebook.
You can also connect with me personally at Novelnaut, Thatedeguy, Shane Ede, and my personal Twitter.