Years ago, during the coupon craze, I bought my share of convenience foods that I could get for just pennies.  Thanks to couponing and buying the deals, I was able to save a great deal of money on groceries.  But over the years, I found that the money I saved wasn't really saved after all.  Instead, the money just went somewhere else—to the doctor.
I had high cholesterol, high triglycerides, and after a while, serious stomach ailments that required me to go see a specialist.
I eventually switched to a Paleo diet, focusing primarily on eating fresh fruits, veggies, and some meat.  Since the change, my cholesterol is nearly 75 points lower, I no longer have high triglycerides, and my stomach is much improved.
I still try to keep the grocery budget trim, but it's much harder to do so without using coupons.
Coupons for Healthy Foods?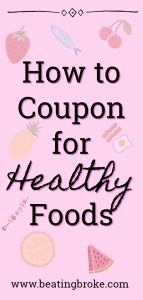 For years, I just assumed that there are no coupons for healthy foods, especially foods that aren't processed, but that's just not true.  If you know where to look, you CAN find coupons for healthy foods.
Where to Find Coupons for Healthy Foods
The best place to start is the manufacturer's website.  Here are a few of my favorites:
Organic Valley—sign up for the mailing list, and you'll receive coupons straight to your e-mail box.
Earth's Best Organic—you'll find coupons for baby items here.
Blue Diamond Almonds—sign up for their newsletter, and you'll regularly receive offers
Whole Foods Coupons—you'll find coupons for a wide array of products sold at Whole Foods
Other Ways to Get Coupons
There are other ways that I like to get coupons for healthy foods:
Facebook
Some companies will occasionally offer a coupon when you like their Facebook page.  This is my favorite time to like the page.  Also, companies sometimes post coupons on their Facebook page as their status update.
Write to the company
I admit, this sounds old fashioned, but I've had great success with writing to the companies individually.  I will find the e-mail address of the company on the product, and then I'll send them an e-mail.  I usually let them know why I like their product and thank them for making it.  My kids have food intolerances, so if the company makes a product my kids can actually eat, I thank them for that.
I don't specifically ask for coupons, but more than 50% of the time, they send me coupons.  Some companies are very generous and send several high value coupons.  If you create a stock letter for this type of e-mail, you can send out several e-mails, each to different companies, in a relatively short period of time.
Of course, just as when you're using coupons for processed foods, the best way to stretch your savings is to stack the coupon with the item when it's already on sale.
While getting coupons for healthy foods is a bit more difficult than couponing for processed foods, you still can use coupons to lower your grocery bill.
What are your favorite strategies for lowering your grocery bill when shopping primarily for healthy foods?
Melissa is a writer and virtual assistant. She earned her Master's from Southern Illinois University, and her Bachelor's in English from the University of Michigan. When she's not working, you can find her homeschooling her kids, reading a good book, or cooking. She resides in New York, where she loves the natural beauty of the area.