If you're currently a teacher, you likely know that while this occupation can be rewarding, it doesn't pay very well.  You may be looking to supplement your income in the evenings or the weekend.
If you're a former teacher who is now staying home with your kids, you may be looking for a way to bring in money utilizing your teaching skills.  However, you'll need flexibility so that you can do your work when your children are sleeping at night or napping.
Luckily, there are plenty of ways to earn a side gig with your skills as a teacher.
Private Tutor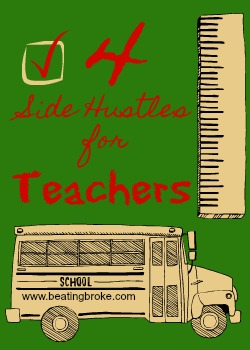 One of my friends worked at Nielsen, became a high school math teacher, and then stayed home when she had children.  For the last 10 years, she has been a private math tutor.  She gets her clients from referrals from her former colleagues and through word of mouth thanks to satisfied customers.  She makes several hundred dollars a month and enjoys being able to still teach even though she is no longer working full-time.
VIPKID Tutor
If you have a bachelor's degree, you can get apply for a job at VIPKID teaching children in China how to speak English.  Most of the available tutoring hours are very early in the morning or late in the evening when your kids are likely already in bed.  You can set your own schedule and decide how many hours you want to work each week.
Depending on your experience, VIPKID may pay up to $22 per hour.
Curriculum Developer
Many former teachers make a nice income developing curriculum and selling it on Teachers Pay Teachers.  Other teachers are always looking for quality curriculum material and homeschoolers also take advantage of the site.
Online Teacher for Gifted Students
A number of prestigious colleges such as Johns Hopkins, Duke, and Northwestern offer online classes for gifted children.  You can teach here, and the schedule offers flexibility as you can decide what semesters to teach and what classes to teach.  You'll be able to challenge gifted students, and you'll have students who will likely challenge you, too.
If you don't want to work with gifted students, you can also look at the many online schools available for K-12 students.  You can teach from home, and you may have to have a live course or tutoring once a week.  My kids were enrolled in an online school this year, and every time they had a tutoring session or interacted with their teachers, the teachers always worked from home, which provides a great deal of flexibility.
If you're a teacher looking for extra income, you can see that there are a variety of ways to do that, and this list isn't exhaustive. Here's another list of ways to make extra money that's not focused on teachers, but could certainly apply to teachers.  If you're a teacher who opted to stay home with kids, there are many ways you can work from home using your skills and keeping current so you'll be able to reenter the teaching workforce should you decide to in the future.
If you're a teacher or were a teacher, have you found ways to turn your skills into a side gig or part-time income stream?  If so, what do you do?
Melissa is a writer and virtual assistant. She earned her Master's from Southern Illinois University, and her Bachelor's in English from the University of Michigan. When she's not working, you can find her homeschooling her kids, reading a good book, or cooking. She resides in New York, where she loves the natural beauty of the area.