One of the tenets of a frugal life is learning impulse control.
Are you running errands and want to drink a soda?  Just wait until you get home.  Instead of paying $1.00 for a can, you can have one that you bought in bulk for .10 a can.
Are you excited to see the latest movie by your favorite actor?  Don't pay $10 or more per ticket; just wait until it comes to DVD and check it out from the library.  Or watch it on Netflix or Amazon.
Often, when it comes to frugal living, simply waiting can save you money—a lot of money.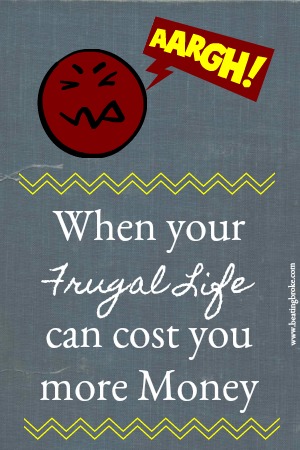 However, the same impulse that prompts frugal people to wait can also end up costing them a lot of money, if they're not careful.  The key is knowing when it's good to wait vs. when you need to take action.
Car Repairs
When it comes to mechanical car repairs, waiting will almost always cost you money.  For instance, a few years ago, I heard a squeak when I pushed on the brakes.  However, we didn't have the money for a costly repair, so we put off the repair while we tried to generate more money.  While we waited, the brakes continued to deteriorate, so a repair that would have only cost a few hundred dollars had we taken care of it quickly, turned into a repair that cost several hundred more.  Ouch.  Lesson learned.
However, for non-mechanical repairs, waiting or just not fixing them can save you money.  Our electronic sliding door on our minivan has been broken for a few years now.  (The cable is frayed.)  Repairing it would have cost $1,000+.  Since the van has nearly 200,000 miles on it and is 13 years old, we opted not to make that repair.
Home Repairs
Some home repairs can be put off, but most of them, like car repairs, need to be attended to in a prompt manner.  If they are, they will cost much less money.  Case in point?  We hated our kitchen faucet.  It was very low, and it was hard to use when washing pots and pans.  We wanted to replace it, but didn't have the money.  Well, this summer, we learned that the faucet had been leaking.  There were actually three leaks dripping under the sink because the previous owner had duct taped (!) one of the pipes under the sink.  The plumber replaced the faucet and changed the pipes under the sink.  We would have had that expense regardless of when we replaced the faucet, but had we taken care of the faucet earlier, we would have saved ourselves the water damage repair underneath the sink.
Living a frugal life and waiting for most things in life can save you thousands, perhaps hundreds of thousands, of dollars over your lifetime, in some cases, waiting will just cost you more.
Do you tend to put off home and car repairs because of your frugal life, or do you attend to them promptly, knowing they will likely cost more money if you don't?
Melissa is a writer and virtual assistant. She earned her Master's from Southern Illinois University, and her Bachelor's in English from the University of Michigan. When she's not working, you can find her homeschooling her kids, reading a good book, or cooking. She resides in New York, where she loves the natural beauty of the area.