Behind a mortgage, groceries are often the second most expensive line item in the budget.  If you're looking to save more money this year, a good place to look is to reduce the grocery budget.  But don't stop there.  Make sure to also look at the other side of the grocery budget—reducing food waste.
Whenever you waste food, you're essentially dropping money into the garbage.  Instead, learn to reduce your food waste to stretch your grocery budget even further.  Here are some of my favorite strategies: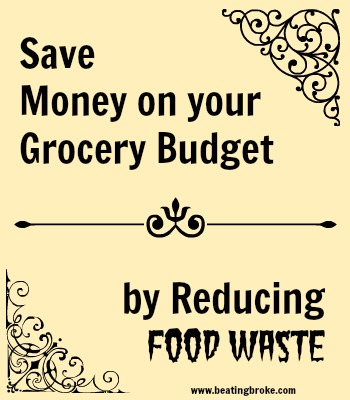 Look at your calendar before you shop.  Do you have a busy week coming up?  If so, don't plan labor intensive meals; you just won't have time to make them and you'll likely have food go bad before you have time to cook it.  Instead, make some meals on the weekend to eat during the week when you're busy or plan simple recipes and buy simple ingredients.  Rachael Ray's Week in a Day is a great springboard for finding recipes you can make on the weekend to enjoy all week long.
Alternatively, you can choose simple meals to make on busy weeknights.  Fresh spinach can be sautéed in minutes.  Paired with a microwaved baked potato and a simple meat like a polish sausage that can be cooked quickly, and you have a fairly healthy, inexpensive meal.  Another option is to keep frozen vegetables on hand to cook quickly and pair with an easy meat and minute rice.
Buy foods your family likes.  Too often, people buy a bargain that turns out to be a waste of money because their family won't eat it.  Buy the foods that your family will eat, not the foods that are a bargain.
Use leftovers!  Do you eat leftovers?  Some people don't like them, but I love leftovers because they offer me one meal I don't have to cook!  Eating leftovers can be a great way to stretch your food dollars.  If your family refuses leftovers, try to cook only as much as your family will eat in a meal so you don't waste extras.
Create new meals with the leftovers.  Another idea is to creatively repurpose leftovers.  For instance, if you cook a whole chicken or buy a rotisserie chicken, keep the leftovers to turn into other meals like chicken enchiladas or chicken noodle soup.  Thanks to the Internet, you can find plenty of recipes for reusing leftovers.  Some chefs, like Robin Miller of the Food Network, specifically look to make meals out of leftovers to help you better utilize your time and food.
Utilize the freezer.  One of my favorite ways to reduce food waste is to use the freezer.  We recently bought a large box of individual serve guacamole.  I still had 8 left close to the expiration date, so I put them in the freezer, and now we just pull them out as we need them.  Many meals that you make and don't want to eat all at once can be frozen for later use.
What are your favorite strategies for avoiding food waste?  Do you waste a lot of food or a minimal amount?
Melissa is a writer and virtual assistant. She earned her Master's from Southern Illinois University, and her Bachelor's in English from the University of Michigan. When she's not working, you can find her homeschooling her kids, reading a good book, or cooking. She resides in New York, where she loves the natural beauty of the area.