I got my first credit card when I was in college.  At first I was responsible, but then I began to charge more than I could afford on my meager student salary.  I still remember the first purchase I made on my credit card that I knew I could not pay off immediately—a $37 tennis racket because my friend and I wanted to play tennis that summer.
Unfortunately, that lead to a habit of over charging because I had very little income coming in.  My experience is not unique.  Approximately 90% of undergraduate and graduate students who have credit cards carry a balance each month (Debt.org).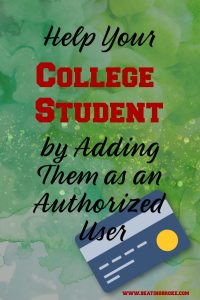 If you'd like to help your teen or college student develop a responsible credit pattern as well as a good credit score, the secret may not be to get him his own credit card, but instead to make him an authorized user on your account.
As an authorized user, she'll be able to use your card.  You can either pay what she charges or have her pay what she charges.  In addition, you'll be able to keep an eye on her purchases and make sure she is using her privileges responsibly.  This can get her into the habit of responsible credit card use so she can avoid debt in the future when she has her own card.
A Few Caveats
Before you pursue putting your child on your account as an authorized user, you'll want to cover a few bases:
Have a Strong Credit Score
If you add your child as an authorized user to your account, she will "inherit" your credit score.  If you have a high credit score (generally 700 or above), you will be giving your child quite a gift.  With a high credit score, when she finishes college, she'll more easily be able to rent an apartment and get her own credit card later in life.
If your credit score is low, you'll be saddling her with an obstacle to overcome.  It's better for her to have no credit score than to inherit your low credit score.
Choose a Card that Reports Authorized Users to the Credit Bureaus
Not all credit cards report authorized users to the credit bureaus, which means your child won't get your credit score.  In general, the major credit cards do, while credit unions may not.  To be sure before you add your child, confirm with the credit card company that they will report authorized users.
Only Do This With Responsible Children
Since you are ultimately required to pay any expenses put on your credit card by your child, only put a child who is financially responsible on your card as an authorized user.  If your child has been irresponsible financially in the past, there is no use in tempting him with your line of credit.
See If There Is a Fee for Authorized Users
Finally, keep in mind that some credit cards charge a fee to add an authorized user.  You'll want to verify this is not the case for your particular card before you add your child.
If you'd like to help your child develop financial maturity and secure a good credit score, consider adding him as an authorized user.
Have you added a child as an authorized user or were you added as one?  If so, what was your experience?  Would you recommend doing this?
Melissa is a writer and virtual assistant. She earned her Master's from Southern Illinois University, and her Bachelor's in English from the University of Michigan. When she's not working, you can find her homeschooling her kids, reading a good book, or cooking. She resides in New York, where she loves the natural beauty of the area.