Every year, more Christmas expenses seem to crop up than I have budgeted for.  Typically, our budget can handle the extra strain, but this year is different.  This year, our central air conditioner unit needed to be replaced, and we're on a mission to pay off the loan as soon as possible.  That means this Christmas I have to be smarter with my spending, and I have to spend less than I usually do.
I have a plan to reduce my Christmas expenses without skimping on my kids' gifts, but to be successful, I have already started my holiday shopping even though Christmas is months away.  Here's my plan: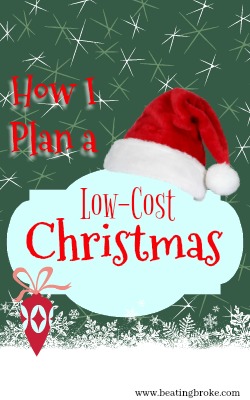 Take advantage of coupons.  I am on several e-mail lists for different stores.  This weekend, Michael's sent out a coupon for 70% off one regular price item.  I will be going to Michael's and using this coupon to purchase a Christmas gift that I'll tuck away.  Any time from now until Christmas that I see high value coupons, I'll take advantage of them to buy a Christmas present at a fraction of the cost.
I'm making some gifts.  Last year, when fleece was on clearance after Christmas, I bought some to make blankets for each of my kids.  I have made one blanket, and I'll be making two more in the next few weeks.  These will be one of their presents.  I also plan to make some doll accessories for my daughters with fabric I already have in the closet.
I'm saving credit card rewards.  Starting in August, I let my credit card rewards accrue.  Right now, I have enough for $50 cash.  By the end of next month, I will have enough for $100 cash.  By Christmas, I hope to have $150 cash.  I'll save that money and use it in December, especially close to Christmas when retailers discount products that they'd like to sell for the holiday.
Entering giveaways.  When I have time, I'm entering giveaways for prizes my kids would like for Christmas.  I'm not really banking on this strategy, but if I do win, that helps me round out my Christmas stash.  Last year I won a game for one of my children, and a craft set for another.
Using Swagbucks.  If you are a member of Swagbucks and you sign up for all of the different programs and offers, you can accumulate Swagbucks quickly.  However, I just use Swagbucks for Internet searches and answering the daily poll and getting secret codes, so I earn a bit more slowly.  Still, I expect to have enough Swagbucks to redeem for $50 in Amazon gift cards by Christmas.
If you plan to use this strategy, you'll need to strategize because you can only get one gift card per month.  You'll have to plan ahead and cash out month-by-month so you'll be able to access your points.
What strategies do you use to save money on holiday gifts?  Do you also start buying Christmas presents in the fall to save money?
Melissa is a writer and virtual assistant. She earned her Master's from Southern Illinois University, and her Bachelor's in English from the University of Michigan. When she's not working, you can find her homeschooling her kids, reading a good book, or cooking. She resides in New York, where she loves the natural beauty of the area.