Things have been a bit hectic around here over the last week or two. We had a baby!  Surprise.  I seriously realized after she was born that I hadn't even mentioned the fact that we were expecting on here.  I guess when it's the third child, the excitement level and having to tell the whole world aren't as high.  🙁  So, sorry about that.
We're Pregnant!
Better late than never, right?  Never mind that it's close to 11 months later.  Our little baby is now a little over a week old.  Insert cute picture of infant here: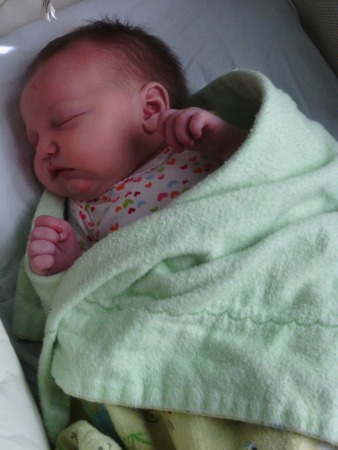 If there's one thing that we've noticed with the third child is that it's so much different than the first two.  With the first one, we did the typical new parent thing and bought every little gadget and gizmo that all the ads tell you that you need to have.  We had so many clothes, diapers, and formula that we could have opened up our own infant store.  With the second one, we already had a bunch of the gadgets and furniture, so it was cheaper.  Plus, we'd already done this once, and knew what we thought we needed.  We only bought the stuff that we thought we needed.
The third child is a totally different thing.  We've done this a couple times, but the last one was 5 years ago.  We'd thrown out most of the furniture, car seats, and most of the toys.  We'd also given away most of the other stuff we had.  But, instead of going out and immediately re-buying all that stuff again, we did it the cheap way.  Some friends of ours recently had a child, so we have borrowed a lot of the gadgets.  Car seats, swings, etc all are  from them.  Another friend of ours recently had a baby that had conveniently just grown out of her newborn clothes.  We had an instant closet full of clothes for our baby. There are some other things that we had to go out and buy, but our costs for new things has been pretty minimal.
Of course, there's no level of borrowing or purchasing that will get us full nights sleep right now. 🙂
Thinking back, we were early to the baby-making game among our friends.  Borrowing stuff, and receiving hand-me-downs wasn't really possible with the first two.  I'm glad it is possible here.  I highly encourage you to find as much stuff to borrow if you've got friends that have kids.  And it helps if you've got friends that have recently had babies too.  Especially when they're ready to get rid of the boxes of clothes that they've gathered.
How do you help make baby cheaper?

I started this blog to share what I know and what I was learning about personal finance. Along the way I've met and found many blogging friends. Please feel free to connect with me on the Beating Broke accounts: Twitter and Facebook.
You can also connect with me personally at Novelnaut, Thatedeguy, Shane Ede, and my personal Twitter.