You've had your fun.  You spent the holidays with your loved ones, did some frugal gift giving (right?), and probably ate way more than you should have.  But, the new year is upon us, and it's time to get back to business.  It's time for a January financial reset.
With tax season right around the corner, there's no better time to get all your financial books from the last year in order, take a good look at the balance sheet, and decide on the directions you're going to take your finances in the coming year.  For some of you, that will mean finally getting a handle on your debt.  For others, it will mean finally paying off your debt.  And for more of you, it will mean finding the best ways to make your money work for you as you build your net worth and make strides towards financial independence.
For those in that last group of people, this post isn't likely to help much, but you might want to take a peek at my Lending Club page for a great way to keep your money working for you.  The rest of you, stick around.
Reformulate your debt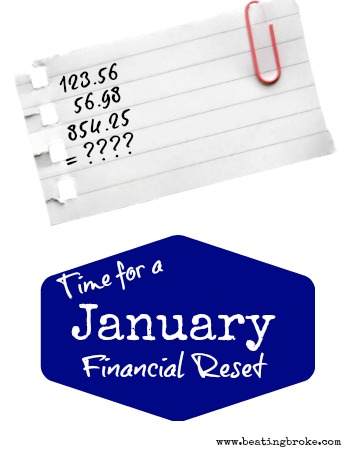 If you've still got debt hanging around, a new year financial reset is a great time to investigate reformulating it. What the heck does that mean?  It means taking a good look at the debt that you're carrying, and considering the options you may have to pay it off earlier.
Reduce the rates: The worst feature of credit card debt is the interest rate that they like to charge.  12%, 15%, 22%, or more.  The interest payments eat into any payment you make on the debt quickly, and make it that much harder to make any meaningful progress.  If' you've got good credit, consider finding some good 0% balance transfer cards to transfer your existing balances to.  You should be able to find something with a 12 to 15 month 0% rate.  Be aware of the balance transfer fee when you do this, but otherwise it can be a good way to help you make some good progress on your credit card debt repayment.
Refinance: In some cases (mostly secured debt) you may want to look into a refinance of the loan.  If you can reduce the rate on a loan and extend the length of it, it can free up some of your debt repayment money to go towards loans with higher rates and speed up your debt snowball.
Recalculate your debt snowball
Now is also a really good time to update all the numbers on your debt snowball plan.  (or debt avalanche if you're so inclined) Unless you've been keeping it updated throughout the year, the numbers are probably pretty out of date, and need to be freshened.  Take the time, while you're doing this, to determine if you need to move one debt ahead of another, or if you can afford to increase the snowball payment to speed it up.
Seed your budget
Your budget can be the lifeline for your financial life.  It's a blueprint for how you're building your financial house.  Even a simple budget can help tremendously, and the beginning of the year is a great time to give your budget a full inspection (or just to start one) and make sure that it's got all the categories you need, that it's still balancing, and for planning out where you're going to focus your efforts in the new year.
Examine your bills
We all get bills throughout the month.  In many cases, we throw them in a pile, then enter them into bill pay, (or, gasp, write checks) and then forget about them until they show up the next month.  While you're going through your finances from the previous year, pay attention to the bills that you're paying.  Are there bills that have increased?  How about ones that you meant to cancel the service but didn't?  Or maybe there are some that you just haven't called to try and get a better rate for?  Know what time it is?  You guessed it.  It's time to cancel that service. It's time to call and see why the rate increased, and if there's a change you can make to get a better rate.  It's time to compare your services with their competitors and see if there isn't a better rate/service available out there.  You may think it's a waste, but you could end up saving hundreds a month.  And that can quickly make your debt snowball grow!
Keep on your financial path
Here's the most important thing you have to take away from this post.  You've got to keep on that path.  Once you've done the things above, you've taken some really solid steps on your path to being debt free, but they'll only work if you keep working with them.  Keep that budget going, keep a close eye on your bills, keep your snowball updated, and know how much debt (and at what rate) you have left.  Whether your debt feels like a mountain, or just a molehill, knowing the what/when/where of it make the climb that much easier.
Will you take the time to do a January Financial Reset?

I started this blog to share what I know and what I was learning about personal finance. Along the way I've met and found many blogging friends. Please feel free to connect with me on the Beating Broke accounts: Twitter and Facebook.
You can also connect with me personally at Novelnaut, Thatedeguy, Shane Ede, and my personal Twitter.