Halloween is fun for kids of all ages, including adults who are kids at heart.  However, what isn't so fun is the hefty price tag that often comes along with the fun-filled day.  In fact, a "new poll from the National Retail Federation projects that Halloween revelers will spend. . .an average of $82.93 per shopper" (USA Today) this year.  That's more frightful than the Halloween decorations that may cover your yard. Use these tips to help you save on Halloween spending this season so you can still have a fun Halloween without breaking the bank.
Halloween Decorations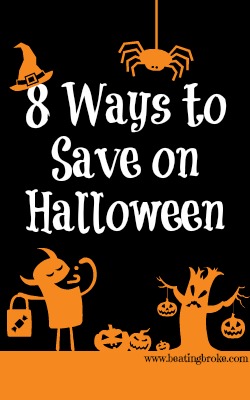 There are plenty of ways to get Halloween decorations for a fraction of the cost.  My favorite way is to buy Halloween decorations at yard sales.  (In fact, that's how I buy all of my decorations!)  Or, if you have patience and would like to buy new, you can check out the clearance sales after Halloween is over.  That's how I bought a good supply of Halloween and fall-themed towels, at more than 75% off.
Halloween Costumes
Halloween costumes bought new can cost anywhere from $25 to upwards of $100 for fancier costumes.  Yikes!  We have three kids, so to spend that kind of money on costumes is not practical.   Instead, we employ a variety of strategies to save on costumes.
Homemade
My son went as a knight one year.  We found the vest at Goodwill for $5.  We pared that with black pants and a white shirt that he already had.  Then he made a shield out of cardboard from a large box and covered it in tin foil and put a design on it.  He actually wore that costume for two years in a row.
Bought on discount
Our girls typically like fancier costumes, so we tend to buy them immediately after Halloween is over at a steep discount.  Our favorite stores to shop are Disney and Gymboree.  I can find cute Gymboree Halloween costumes for less than $10 immediately after Halloween.
Use what you already have
Another idea is to use what you already have.  If your son has a baseball uniform, why not go as a baseball player?  If your daughter is taking ballet class, why not go as a ballerina?
Halloween Candy
If you live in a subdivision, you likely get a lot of trick-or-treaters.  The price of candy can really add up, but it doesn't have to.
Buy the candy at a warehouse store
If you're a member of Sam's Club or Costco, you can buy candy in bulk  for less than your local grocery store chain sells it.
Buy cheaper candy
You don't have to buy expensive candy for trick-or-treaters.  Instead, buy cheaper candy like suckers, Smarties, and candies like that.
Have a limit
Set a budget for how much you want to spend on candy and limit your purchase to that amount.  When you run out, turn off your outdoor light and don't answer the door anymore.
Halloween is a fun-filled holiday.  You can still be festive without spending a fortune.
What are your favorite tips for saving on Halloween décor, costumes, and treats?
Melissa is a writer and virtual assistant. She earned her Master's from Southern Illinois University, and her Bachelor's in English from the University of Michigan. When she's not working, you can find her homeschooling her kids, reading a good book, or cooking. She resides in New York, where she loves the natural beauty of the area.