Almost one year ago, our family made the move from Chicago to Tucson, Arizona.  Honestly, I wasn't that excited to be moving so far away from my family in the Midwest, but we thought the move would only be for two or three years.  The move was a smart choice for my husband's career (something we still believe), so I tried to make the best out of it.
Now, a year later, I've found that a cross country move can evoke a wide range of positives and negatives.
The Positives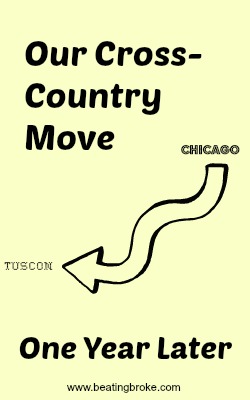 Keeping in touch with relatives is easy, thanks to technology.  My mom has made the trip out to Tucson three times in the year we've been here, so we've been lucky to see her so frequently.  Because of the cost of taking our family of five such a distance, we only expect to be able to travel to see her once a year.  She'll likely cut her trips down to once or twice a year to see us from now on.  However, thanks to Skype, keeping in touch is easier than ever.  Whenever the kids miss grandma, we just Skype with her.
Having a back yard is priceless.  In the Chicago suburbs where we lived, we just had a tiny patch of yard.  Since we were renting, we couldn't do anything with it.  Now, we have a full back yard for the kids to play in and we have three garden beds (though we're still learning how to grow anything in this crazy desert).
A cheaper cost of living rocks.  No surprise, Chicago was expensive.  We could never own a house because property taxes alone were $12,000+ a year, and starter homes in less than ideal conditions were easily $350,000 as a starting price.  In Tucson, we're able to own our own home, and the property taxes are a fifth or less of what they were in Chicago.
The Negatives
All health insurance policies are not the same.  My husband's health insurance policy in Chicago was generous, but we always found it very annoying that medical bills were not paid until 9 to 12 months AFTER the appointment.  (Illinois' tight budget was the reason.)  When we moved here, I was impressed that our bills were paid within a few weeks.  However, we pay more to insure our family here, and fewer expenses are covered.  We did not estimate just how deeply medical bills would impact our bottom line, and right now we're recovering financially from the nearly $5,000 we had to pay out of pocket for the first four months of medical expenses in 2015.  (These expense would have likely been much less with our Illinois insurance.)
Moving is SO expensive.  We originally hoped to only be out here for two to three years, but moving cross country is so expensive.  Now I find myself hoping we stay here five years so we don't have to spend so much money to relocate so quickly after relocating here.  We need time to recoup our expenses.
Moving cross country has been an experience, but despite the expenses, we're still glad we did it.
Have you made a large move?  What did you learn a year or so into relocating?  Would you do it again if you had the choice?
Melissa is a writer and virtual assistant. She earned her Master's from Southern Illinois University, and her Bachelor's in English from the University of Michigan. When she's not working, you can find her homeschooling her kids, reading a good book, or cooking. She resides in New York, where she loves the natural beauty of the area.