I'm a big fan of buying in advance for items that I know that I'll need.  For years when my kids were little, I'd go out shopping a day or two after Halloween to buy my kids discounted Halloween costumes for the next year.  I never paid full price for a Halloween costume, and after Halloween was over and the kids were done with the costume, I sold the costumes on eBay for close to the price I paid.
That's the way I like to shop, and I know it's how many others shop, too.  After all, shopping this way is a smart strategy to stretch your dollars.
The problem is that as life gets busier as the kids grow older, I've found that sometimes I forget what I bought in advance.  Then, I desperately go out shopping for the item I need, not realizing I had already bought it in advance.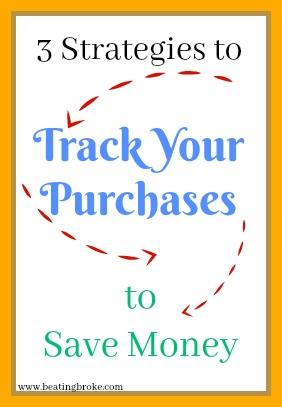 Case in point: Last year, right after Christmas, I bought my daughter a green ruffled dress on clearance at a steal for this year's Christmas.  But, I forgot I bought that dress, and come November, I spent a lot of my time searching children's resale stores for a dress that wasn't unreasonably priced.  I had no luck.  A few weeks ago, I was digging through some storage tubs in my closet, and I found the dress.
So this year, one of my New Year's resolutions is to implement a strategy to keep track of all of my deals.  Here are some techniques I plan to use:
Keep all of the deals in one location.  I have a corner of my walk in closet where I keep a large storage tub filled with discounted items I buy whenever I see a good sale on things I'll need later.  I use these items for my kids' birthday and Christmas presents.  I have added another tub to this one.  I'll store other items like seasonal dresses in these tubs so I know everything I've bought in advance is in one location.
Keep a spreadsheet of gifts.  Even if you keep all of your items in one location, you don't want to constantly have to rut through everything to find what you're looking for.  Keeping a spreadsheet of the items you've bought in advance as well as who they are for will make it easy to see at a glance what items you have.  This can also prevent you from overspending and buying more than you need.
Use the libib app to track books.  I frequently give books as gifts.  We also homeschool, so when I see a good sale, I'll buy books in advance for the next year or two of school.  The free app libib is a great way to keep track of your books.  Simply scan the barcode with your smartphone, and you can create an inventory, even categorizing by person you'll be giving the book to or genre.  You choose.
Buying things you'll need in advance is a great way to save money. . .as long as you don't forget about what you've already bought!
Do you buy items in advance?  If so, how do you keep track of them?
Melissa is a writer and virtual assistant. She earned her Master's from Southern Illinois University, and her Bachelor's in English from the University of Michigan. When she's not working, you can find her homeschooling her kids, reading a good book, or cooking. She resides in New York, where she loves the natural beauty of the area.