You may have started with the best intentions.  You didn't want to go in debt to pay for Christmas presents, so this year you resolved it would be different.  This year you'd set aside money every month, so when November came, you'd be able to buy Christmas presents with cash on hand.
But then, you're car broke down and the repair was more expensive than you thought, so you had to dip into your Christmas savings.
It happens.  Sometimes Christmas is only weeks away, and you don't have money to pay for the presents.
Don't worry.  There are still ways you can make money to buy presents for Christmas.
Consignment Shops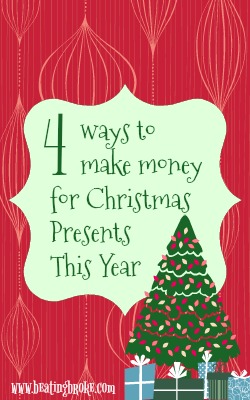 Do your kids have clothes they've outgrown?  Do you or your spouse have clothes in the closet that you don't wear anymore?  Why not take them to a consignment shop?  When the shop sells your clothes, they'll give you a portion of the sales price.  Or, they may just offer you a flat fee upfront.  Either way, it's money in your pocket for items you weren't using anyway.
Pantry Challenge
Take a minute to go look in your freezer, refrigerator, and cupboard.  Chances are you have a lot of food there, probably more food than your family will eat in a week.  Why not have a pantry challenge?
There are several ways you can do this.  One idea is to just take a week off completely from grocery shopping and just eat up what you have in the house.  If you normally spend $150 a week for groceries, that's $150 you now have for Christmas gifts.
Another idea is to do a pantry challenge for a month.  That doesn't mean that you don't buy any groceries for a month.  Instead, it means that if you normally spend $600 a month for groceries, try to mostly eat up what you have in the house.  Give yourself an allowance, say $200 for the month to buy perishable essentials like fruit, veggies, milk, etc.  At the end of the month, you've saved $400, which you can use for Christmas presents.
Credit Card Rewards
If your credit card offers cash back rewards, start saving that money now.  You won't make a lot this way, but you can use that money to help supplement your Christmas fund.
Swagbucks
Swagbucks is an online search engine.  You use it just like other search engines, but you're sometimes rewarded with Swagbucks.  Earn 2,200 Swagbucks, and you can get a $25 Amazon gift card.  With diligent effort, using Swagbucks every day and doing other activities as well as meeting your Swagbucks daily goal, you should be able to earn enough points for the $25 Amazon gift card in a month.
If you need money for holiday presents, a pantry challenge will give you the most reward for your effort.  However, the other three strategies will help you make additional money.  By combining all four strategies, you may have enough money to purchase your gifts in cash.  Take some effort now, and you won't have to go in debt this holiday season.
What other strategies do you use to raise money for Christmas presents?
Melissa is a writer and virtual assistant. She earned her Master's from Southern Illinois University, and her Bachelor's in English from the University of Michigan. When she's not working, you can find her homeschooling her kids, reading a good book, or cooking. She resides in New York, where she loves the natural beauty of the area.