The following post is sponsored, and I am being compensated to write it. That doesn't change the fact that I'm doing a review, and it will be honest.
When I was first asked to do a review of Weemba, I'd never heard of it.  (See? Honesty!)  As any good reviewer will do, the first thing I did was try and figure out just what it was that I was to be reviewing.  I'll extrapolate later on, but here's how they put it in a recent press release.
Weemba revolutionizes the way borrowers and professional lenders connect via an online financial platform. Weemba provides, by means of unique proprietary methods and state-of-the-art safeguards, a virtual way for borrowers to post their needs and for lenders to then find those borrowers.  Protected by a nickname, borrowers post project profiles for lenders to review; interested lenders ask borrowers to access their private information, and if granted access, can contact borrowers directly. Weemba facilitates the borrower-lender interaction without interfering in the negotiation process.
It sounded a bit like a peer-to-peer solution, which, as I'm sure you've read, I'm a fan of, so I figured I'd give it a review.  (Doesn't hurt that I was paid to do it too.)
Sign-Up
Signing up for Weemba was pretty easy.  In fact, if you so choose (I did.), you can sign up using your Facebook account.  You create a Community ID which will be used for their forums and support, and give them the necessary personal details.  If you've ever filled out a loan application, you know what I mean.  Name, address, SSN, etc.  There's also the multiple-choice questions that they pull from your credit info (from Equifax) to verify you are who you say you are.  That's it.  Fill in the info, verify, and you're off.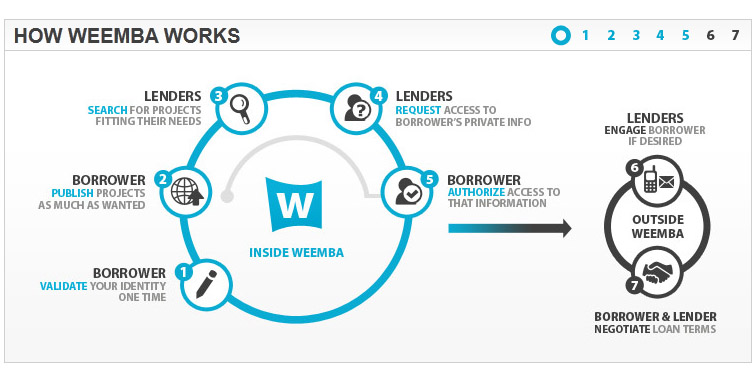 Adding a Loan Project
Once you've completed the sign-up process, you're taken directly to the loan project creation page.  You're asked to choose between a personal and business loan type.  I chose personal, but they do have the system in place for both.  I advance through, and then get down to the nitty-gritty of the loan project.  Give it a name, tell the lenders what type of loan it is, how much you want, what amortization method you'd like (Installments, Balloon, or Lump Sum), the desired length of the loan, funding type (Full funding only or partial funding accepted), and then are given the option of adding your Equifax Credit Score.
I balked a bit here.  If you know how the credit score programs from any of the credit bureaus normally work, you're usually signing up for a free trial to their credit score monitoring service that is followed by a paid service.  There wasn't any mention of whether it really cost me anything or not, so I read the Terms and Conditions.  There, it does mention that some of their services do cost a monthly fee, but doesn't mention any of the services by name, so I still couldn't be sure.  Later, I looked in the FAQs and it does mention there that it's "no cost", but with no further details.  I don't see any way around adding your credit score to a legit loan project, so if you're adding one to seriously pursue a loan, you'll need to do so.  I wasn't going to publish the loan project, so I didn't add the credit score.
Once you've gotten the credit score added, you get a chance to add details of the loan, some secure info (contact and some advanced qualifiers for their search engine), create a forum for your project, and then add an Avatar or videos to the loan project.  The avatar will be displayed in their search results, and on the rotator on their home page.  There's also a "W-SEO" score added to the end.  From what I could tell, it looks to be a ranking of sorts based on how much info you filled out, and is dynamically updated after the loan is published with info on conversation, ratings, etc.
What I Think
For a company that claims to revolutionize the way "borrowers and professional lenders connect", I saw a lack of any major revolutionary ideas.  Essentially, they act as a loan broker.  They do it online, so maybe that's the revolutionary part?  I kind of thought that Lending Tree did that ages ago, no?  Or, maybe it's the search combined with some decidedly social aspects?  I'll give them that.  Sites like Lending Tree basically pull your info and then spit it out to some local lender that you've matched with, so giving the lenders the ability to search for some quality borrowers while giving the borrowers some social tools is a good step up.  I'm just not sure that it deserves the revolutionary PR jargon. They broker the loan, by facilitating the connection.  Once the connection is made, it's handled privately between the borrower and the lender.
Overall, Weemba looks like a good service that will fill a need both on the borrower and lender side.  I'm a big fan of peer-to-peer because it gives the borrowers to make a case for themselves.  Something that Weemba does too.  I couldn't find any information on who the lenders are, or if there's a process for becoming a lender, so I'm assuming that it's mostly institutions.  Still, a good service, that will allow borrowers to find some competitive offers for their lending business.
If you decide to give Weemba a try, here's a few things I'd make sure to do to better your odds of finding a lender.
Be honest.  If there's a story behind your debt, or the reason for the loan, share it.
Add a credit score.  I don't know a lender that isn't going to hesitate if the loan project doesn't have a credit score.
Add a good avatar.  Even if it's a picture of the car you want to buy.  A picture is going to help you. Same for video if it applies.
Answer Questions.  If a lender asks a question, or needs clarification, answer it promptly.
What do you think?  Would you give Weemba a try?  Why? Why not?

I started this blog to share what I know and what I was learning about personal finance. Along the way I've met and found many blogging friends. Please feel free to connect with me on the Beating Broke accounts: Twitter and Facebook.
You can also connect with me personally at Novelnaut, Thatedeguy, Shane Ede, and my personal Twitter.