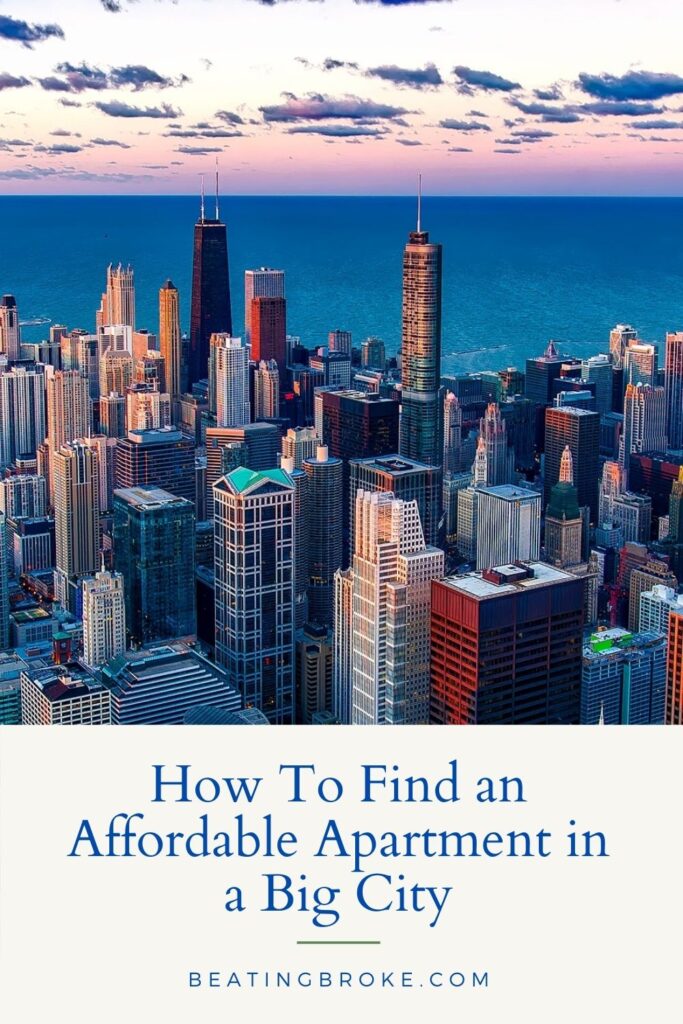 Moving to a large city from the suburbs or a more rural area can be a big shift. I'm not just talking about a little culture shock, but also a big financial change. I found that out first-hand when I moved to Chicago. One of the biggest challenges when moving to a new area, especially a large city, is finding an affordable apartment.
How to Find an Affordabe Apartment in a Big City
Cities like New York, LA and Chicago have reputations for having pretty expensive apartments. If you're moving from an area where you get a lot of value for your money, the shift can be pretty intimidating. But with a little know-how and research, you can find some hidden jewels.
Here are some of my top tips for finding an affordable apartment in a big city!
1. Talk to Locals
Before actually making the move, I visited Chicago three times. With every visit, I talked to taxi cab and Uber drivers to learn more about the city and get their advice on the best areas.
What you'll find in most large cities is that they're broken down into distinct areas or neighborhoods, each with their own culture and vibe. Your first priority should be to narrow down a specific neighborhood or two you want to move to, then look for apartments for rent in phoenix az.
When you run into people, ask them what neighborhood they live in and get a feel for how expensive it is. You don't want to downright ask strangers how much they pay for rent, but ask how the area stacks up against other neighborhoods.
If you're moving for a new job, be sure to talk with your soon-to-be coworkers. This was another good source of information for me. Someone from HR emailed me some of the affordable neighborhoods that I should consider checking out, which was a huge help.
2. Check Apartment Hunting Sites
Sites like Trulia and Zillow are extremely helpful for finding apartments in a new area that fit your budget. I spent countless hours browsing online listings to find apartments that were within the budget I felt comfortable with.
The good thing about these sites is they allow you to filter based on price, amenities location and other options to really help you find what you're looking for.
Don't just rely on the national apartment listing sites. I was recommended to check out a local apartment listing site specifically for Chicago. Zillow and Trulia tend to cater to large property management companies, whereas these niche city specific sites cater to individuals.
It's all about real estate listings, I realized the importance of diligent research and strategic planning when navigating real estate listings to secure a budget-friendly yet desirable living space in a bustling metropolis.
Of course, you can also look at the local Craigslist. This is a good option if you want to save money by renting with a roommate. Getting a roommate will automatically cut your rent in half or even more depending on how many people you live with. Just keep in mind that sharing an apartment with a roommate comes with some potential risks as well.
One downside to Craigslist is that it can easily become a bait-and-switch game. I found that out quickly after calling some listings that had been posted the same day, only to be told "I don't have that specific unit available anymore but I have some other options I can show you." Those other options were generally at least a couple hundred dollars more.
3. Walk Around the Neighborhood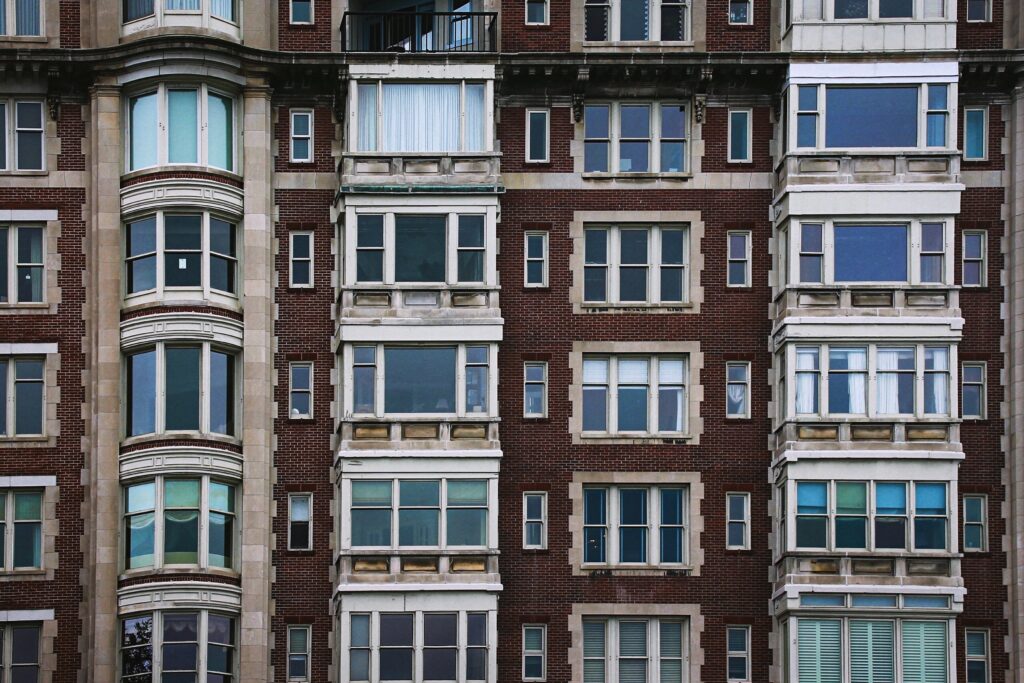 Once you've decided on a specific neighborhood, don't do all your research online. Hit the pavement and go walking around. Although you might think everyone lists their apartments for rent online, it's not uncommon for condo owners or old school landlords to just put a "for rent" sign outside their building.
In larger cities, there's so much foot traffic that just putting a "for rent" sign outside saves landlords the time and fees that come along with listing their property online. You can often find steals with these types of rentals because the landlord isn't doing a ton of competitive research on what everyone else is charging. They're just charging what they think they should, which is generally less than market value.
On one of my visits to Chicago, I walked around the main area I was interested in and noticed a lot of for rent signs. So when I went back home, I contacted a few of them to schedule a tour for my next visit.
4. Be Open to Compromise
There are probably some must-haves on your apartment checklist, but if you're on a budget you have to be willing to compromise. Before moving, I knew I wasn't going to be able to get the same value and amenities I got from my previous apartment so I just accepted it.
I recommend making a list of must-haves and a separate list of things that would be good to have, but you could live without. For instance, an in-unit washer/dryer could be a must-have, but a community gym might be something that you could live without.
In most cases, the cost for all those extra amenities comes out in the costs of added fees or higher rent. You might be surprised by how quickly your needs can change once you see how much more the rent is for an apartment with a pool, doorman and business center.
The key is to compromise, not sacrifice.
5. Consider Living Further From Downtown
The closer you live to the downtown area, the higher your rent will be. When I first started looking, I thought about how great it would be to live close to the downtown area, but I quickly changed my mind after seeing how much the rent was.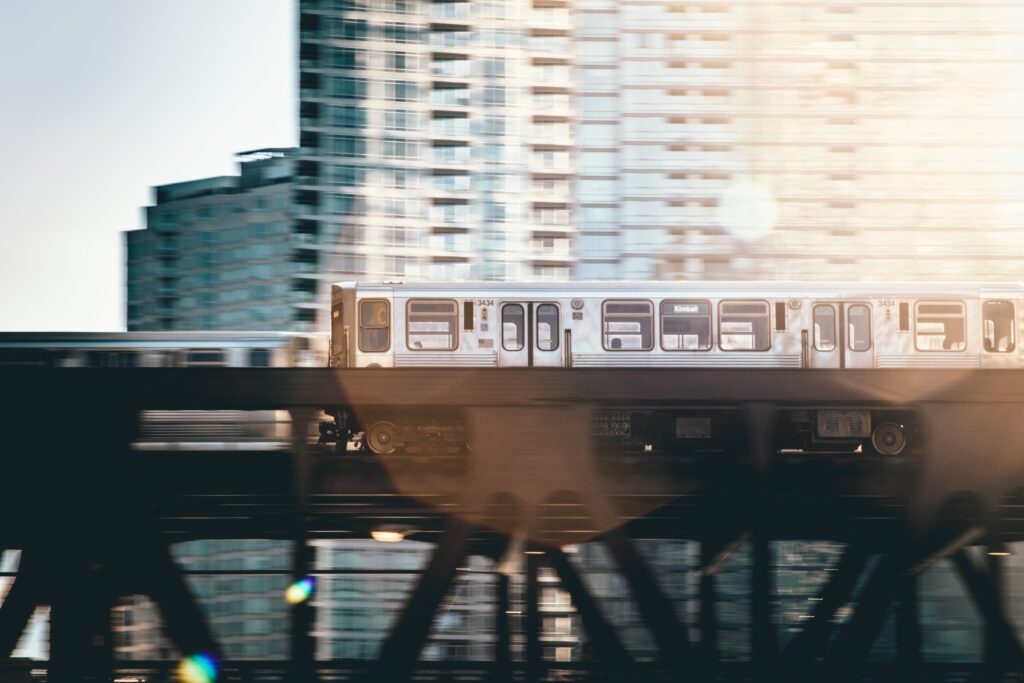 My main reasoning for wanting to live closer to downtown was to make my work commute shorter. But it's well worth spending an extra 10-20 minutes on the train to save hundreds of dollars on rent each month.
Do research and find neighborhoods a little further out that still provide a lot of the amenities you'd get downtown like restaurants, fun activities and shops.
6. Get a Broker
I'll be honest. I didn't even know that rental brokers were a thing until I started looking for an apartment in the city. After all my research, I eventually decided to use a broker to find my apartment.
Rental brokers are like real estate agents for renters. You tell them your budget, amenities you'd like and the areas/neighborhoods you're interested in, and they'll find a place for you. They'll even drive you around to the different apartments, which is super convenient when you're searching in the city. Some will charge you a commission, and others get paid from the property management companies they work with.
In larger cities, there are tons of options available, and there is no single location to see them all. Using a broker makes your search a lot easier and quicker.
7. Look for Up-And-Coming Neighborhoods
This tip saved me a lot of money. When you're moving to a big city, there's a lot of temptation to move to one of the trendy, established neighborhoods. However, consider choosing an up-and-coming neighborhood that isn't quite as well known.  You can get a lot more bang for your buck.
A lot of people associate up-and-coming neighborhoods with being dangerous. However, that's not necessarily the case. Often times these are neighborhoods that weren't the most well kept in the past, but over time new homeowners and businesses start to move in to revitalize the area.
The period of time right before a neighborhood becomes mainstream and trendy is the perfect time to rent because you'll be able to snag a great location before the prices inevitably go up.
Find up-and-coming neighborhoods by talking to people like I mentioned earlier, or just searching Google. There are plenty of blogs that are on top of what's going on in the city.  They usually put together lists of burgeoning neighborhoods to look out for.
One thing to keep in mind is you always want to make sure you're moving to a safe neighborhood. While up-and-coming areas aren't ripe with crime, they are still developing. I used Walk Score to look at the safety rating for the neighborhood I moved into before signing the lease. It's a great way to check how crime in the neighborhood compares to the rest of the city.
Saving money is great, but you don't want to risk your safety to save a couple bucks.
Final Thoughts
Putting all these tips into action will allow you get a great apartment in a large city without needing to live off Ramen noodles and bologna.
Read More
4 Ways TV Watching Is Hurting Your Finances
Living Costs to Calculate Before You Sign a Lease
Do We Inflict Peer Pressure on Ourselves?
Melissa is a writer and virtual assistant. She earned her Master's from Southern Illinois University, and her Bachelor's in English from the University of Michigan. When she's not working, you can find her homeschooling her kids, reading a good book, or cooking. She resides in New York, where she loves the natural beauty of the area.